As a bowler, you'll almost always find yourself playing on a drive lane. But when it comes to competitive tournaments, there will be nothing but heavy oil alleys to bowl on. Because of that, if you're a pro player, then you have to have a bowling ball specifically made for heavy oil lanes in your arsenal. And if you don't, it's about time you get one.
Even the best of bowling balls won't be enough in allowing you to easily make a shot on a heavy oil lane. No matter how much it adapts, you'll always have to put the effort in. But a top-notch bowling ball goes a long way, so let's find out your top picks.
Without further ado, here are our picks for the title of the best bowling ball for heavy oil!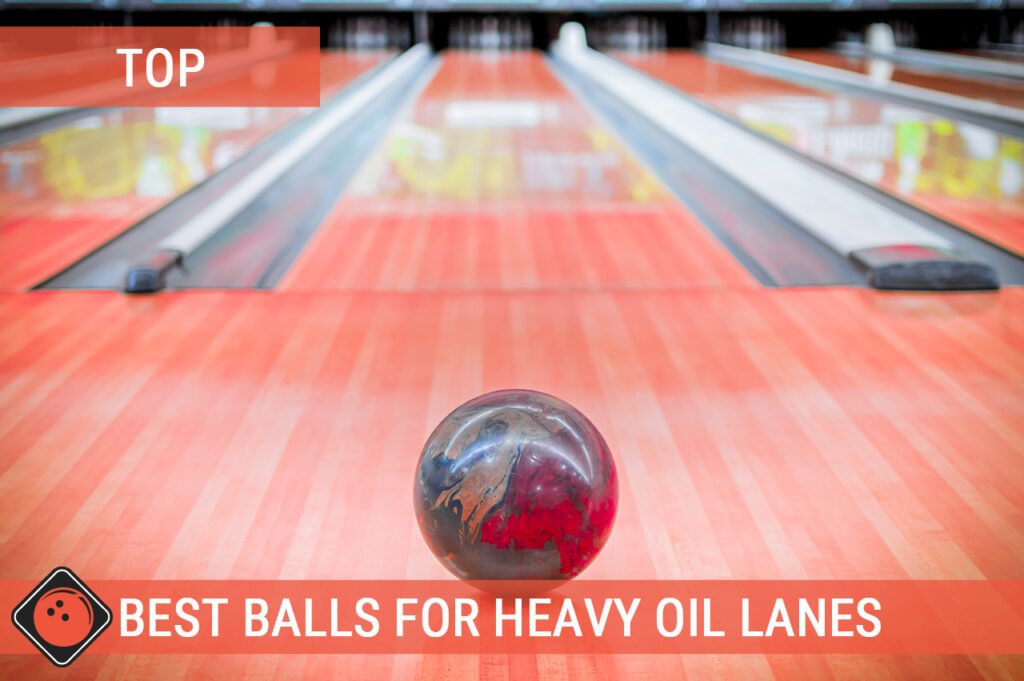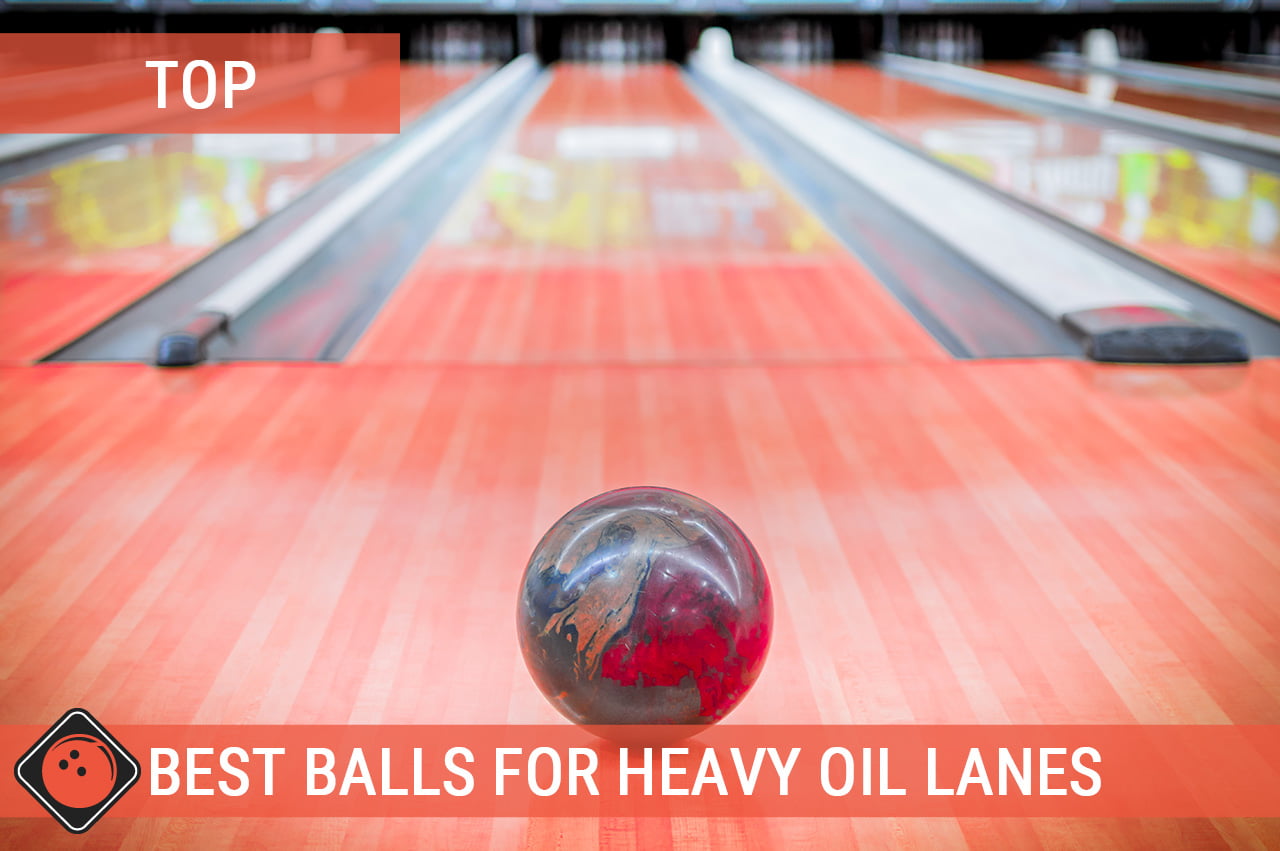 Best Bowling Ball for Heavy Oil Lanes – Our Picks
1. Storm Physix – Overall Best Bowling Ball for Oily Lanes
We start our list of the best bowling balls for heavy oil lanes with the Storm Physics – a ball made with a new Atomic Core, which is a weight block design that the company has incorporated into the build. It's got a 73-75 Rex D-scale durometer, making it one of the best picks on the market.
It was built to bowl on a professional competitive level. This is why most players that want a high-end heavy lane ball will opt for this matte finish ball. Besides that, it also allows for an incredible hook potential.
It's got a pinned buffer layout and a 2.48 RG. The hybrid reactive nature of the exterior coverstock of the ball allows it to work on any kind of lane you might find yourself playing on. The core is asymmetrical, and it's able to glide, thus providing a delayed reaction.
The resulting outcome is an angular speed that can place the ball right where you want it in the pin deck. The reactionary speed you get out of it is unreal. It's like it's almost breaking the laws of physics. Maybe that's why the company went for such a name.
This model was designed particularly for advanced professional players. The features and characteristics of the ball are great for pros, but a beginner might find themselves biting on more than they can chew.
Physics offers quite the high volume challenge patterns and a lot of versatility. You may initially think that it has a prolonged reaction while trying on a broken-house pattern. But come to experience the angular reaction and the speed of the ball, and you'll realize just how amazing it is.
All in all, this is a ball that was designed to be all-around fantastic. You get an advantage in the alley that no other ball can provide on a heavy oil lane thanks to the hybrid coverstock and the matte finish. It truly is an excellent pick for the best balls on heavy oil lanes.
2. Motiv Trident Abyss – Runner-Up
Continuing the list of best heavy oil lane bowling balls with the Motiv Trident Abyss. It is mainly popular among bowlers for the strong motion it provides. It's also consistent in speed, versatile, and quite good looking. If you want to break in the bowling world with style, consider taking this ball with you. The trident has a sturdy reactive coverstock and a high flare potential.
Many players, even some who have played in leagues, consider it to be the best heavy oil bowling ball. It comes with an amazing hook and a weight block turbulent feature that's suitable for oily lanes where friction is very rare.
The ball is also still very suitable for fresh house shots and high volume patterns with its fantastic hook. Even though it's pretty significant, it's still pretty clean through the front and remains very aggressive overall.
If you're a low rev bowler or a speed-dominant player, then this bowling ball is a worthwhile investment for you. It may not be the most versatile ball compared to other options, but it's still a top recommendation especially for heavy oil patterns and higher volumes.
When it comes to your level of skill, it doesn't come with any kind of feature that may be overwhelming or hard to handle for any player who's not so experienced. But it may prove to be a better asset for advanced bowlers more than others.
Basically, if your list of requirements includes heavy oil patterns and great hooks, the Motiv Trident Abyss is a top option that's highly worth considering.
3. Roto Grip Halo – Best Patterns
We now come at our third pick with the Roto Grip Halo, a ball that comes initially with a very aesthetic vibe. The matte finish and the marble design gives it an outlook that deserves a full mark in our books. But when it comes down to the nitty-gritty, does it deserve the credit?
Of course it does. We have here on our hands a heavy oil ball that was designed to withstand extreme alley conditions and heavy oil lanes. Just like the Motiv Trident, this ball has a solid reactive coverstock and a 2000-Grit Pad.
If you're looking to play the game on a long pattern, then the Halo should be your first choice. It's made for professional bowling, and it can go through a long distance without losing much of its velocity.
Seeing how it works so well with heavy oil lanes, a lot of players consider it to be made specifically for that type of game. It may be odd to think that way, but it's definitely spot on considering the results it yields.
The core of the ball is centrum asymmetrical. It is better compared to all other balls on this list in getting through the head, and it doesn't quickly flare out. Although it can get a bit soft over time, the coverstock on this ball is pretty decent.
The result of all of this is an overreaction on heavy oil lanes. Although initially, it's amazing when played in fresh conditions right out of the box.
In summary, it's a great choice for heavy volume and long patterns, for both house and sports shots. The coverstock may deteriorate a bit over time, but it's such a minor fixable issue that it shouldn't matter, really. All of that makes this product yet another worthy candidate for the title of the best bowling ball for oily lanes.
4. Hammer Scandal/S
The fourth pick is the Hammer Scandal/S with its famous Scandal Symmetric Core which will hit harder than you might imagine. This is a ball that was built for extreme durability with its carbon fiber infused outer covering.
This is a necessary feature, yet it's not found in every ball you come across. Due to this feature, you'll find it very suitable for playing house shots because you won't have to worry yourself with sudden and violent reactions.
As for the hook potential, the average hook of this ball is higher than any top-heavy oil ball.
When it comes to the exterior design, you won't find anything impressive at first sight, but look closely, and you'll notice that the calligraphy of the name of the brand is unique and simple. With its yellow color on the dark background, it'll catch your eye like no other ball in the alley.
This ball also hits very hard and strong, just like the original Scandal. Combining the symmetric core with the strong cover makes this ball very suitable for heavy oil. And yes, it's made for professional performance, but slow bowlers may find greater enjoyment and utility with this ball. It's not the best heavy oil bowling ball out there, but when it comes to high-speed bowling, it's still a fantastic choice.
5. Brunswick Quantum Bias Bowling Ball
Distinguishable for its nice-looking, all-white exterior, the Brunswick Quantum Bias Bowling ball comes with a unique hook property due to its one-of-a-kind perfect traction additive, which is included in its white color.
To make it hit harder and have more durability, the ball was made with a urethane coverstock that's 3.5 times thicker than usual.
The core is an asymmetric high-density Quantum Mushroom High RG core. Seeing that it's at 14 pounds, the massive weight had to be compensated along with the dynamics of the core and hook potential by having a uniquely designed set of cores.
What are Heavy Oil Lanes?
A heavy oil lane is a lane with 100+ oil units. That leads to the lane being extremely slippery and sleek. These traits allow for sharp and hard hooks.
One unit of oil is commonly defined as 0.017 cubic centimetres of oil that has been smoothly and evenly distributed on the lane. This suggests that the lane is covered with a thick layer of mineral oil. 20 to 25 ml is what's usually used for heavily oiled lanes.
It also prevents the lane from suffering any early wear and tear because it won't dry out fast.
Heavily oiled lanes also provide players with the best hook in competitive games. The rev rates that a player can achieve on a heavy oil lane can be at 400 to 500 RPM.
All of that seems intriguing, doesn't it?
Well, read on to learn how to pick the best bowling ball for heavy oil lanes!
How to Choose the Best Bowling Ball for Heavy Oil
You might think that picking the best ball for a heavy oil lane would be rather easy, but that couldn't be farther from the truth. If you're not wise enough, you'll end up spending your money on a useless ball.
What do you have to look out for? We'll go through each aspect that you have to keep in mind before going out to pick a ball.
Weight
Why would the weight carry any significance when choosing the best heavy oil bowling ball?
Well, the best kind of a bowling ball would have significant weight to it. Of course, it shouldn't be too heavy, but it also shouldn't be too light either. But how can you tell the difference between a heavy ball and a light one?
Here's a tip for you: if you can take a ball in your hands and bounce it between them, then that ball is likely too light for a heavy oil game. On the other hand, if you find yourself suffering to lift the ball in your hands on your own, then maybe put it down because it's way heavier than it should be.
So what we recommend is going for the ball that you can comfortably handle. It should have a moderate weight with good balance and traction.
Speed
The speed here depends on how you want to play the game. If you're one of those who like to throw the ball hard, then go for the matte or dull finish ball. If you prefer to throw slowly, then a shiny surface ball will be the choice for you.Eve
n the exterior appearance can play a role in a ball's speed, so it shouldn't be overlooked. The design of the core is the main contributing element in the ball's surface appearance.
Intended Use
Is it a bowling tournament or a league that you're planning to compete in?
Each one would have a bowling ball that's more suited for it. League games should be played with an asymmetrical core and a medium surface ball.
Symmetrical balls, on the other hand, are for tournaments. The surface should also be reactive and shiny. On heavy oil lanes, these balls would have a consistent reaction. For heavy oil competitions, an aggressive matte finish ball is your best pick.
Cost
It's no surprise that the better balls will always be more expensive than the poorly made ones. So if you're serious about the game, be ready to put some money into it.
Of course, the ball shouldn't be too expensive, always go for a product that you can afford.
The prices will vary depending on the features of the ball, from durability to the material that's used, or any other unique feature implemented by the manufacturer.
We recommend that you don't go cheap as long as you can, so you don't end up buying a worthless ball that'll bring more pain than joy.
Warranty
Of course, you may end up making a choice that you won't ultimately be happy with. So, keep an eye on the warranty of the ball you get in case you feel like you want to return it.
Verdict
Bowling is the kind of game that requires the player to give their best performance in whatever situation they might find themselves in. So, try to test yourself in different playing conditions such as the heavy oil lane gales to adapt to all kinds of bowling challenges. And don't forget to get yourself the best bowling ball for heavy oil lanes to compliment your skills and ease the challenge!
What are you still doing here? Get your new bowling ball and hit the road already!
Last update on 2023-06-05 / Product Images