Playing bowling can be largely affected by the bowling shoes your kid wears. Your child should get nothing short of the best quality bowling shoes. But with the variety found on the market, it's hard to make the right choice and pick the best bowling shoes for kids.
We don't advise going the rental route because it's not so hygienic, especially with the sensitivity of children. Keeping in mind that the price tags for bowling shoes aren't sky-high, there's no justification for letting your kid go through the trouble of wearing used shoes and having smelly feet. And paying for something that's not going to last for long is unsatisfactory.
You have to remember that the market also has many poor-quality bowling shoes, and thus there's a need to highlight the good picks from the rest. So, we decided to talk about the five best bowling shoes for kids that you can buy. We picked them based on their durability, prices, and cool features.
Without further ado, here are the best kids bowling shoes!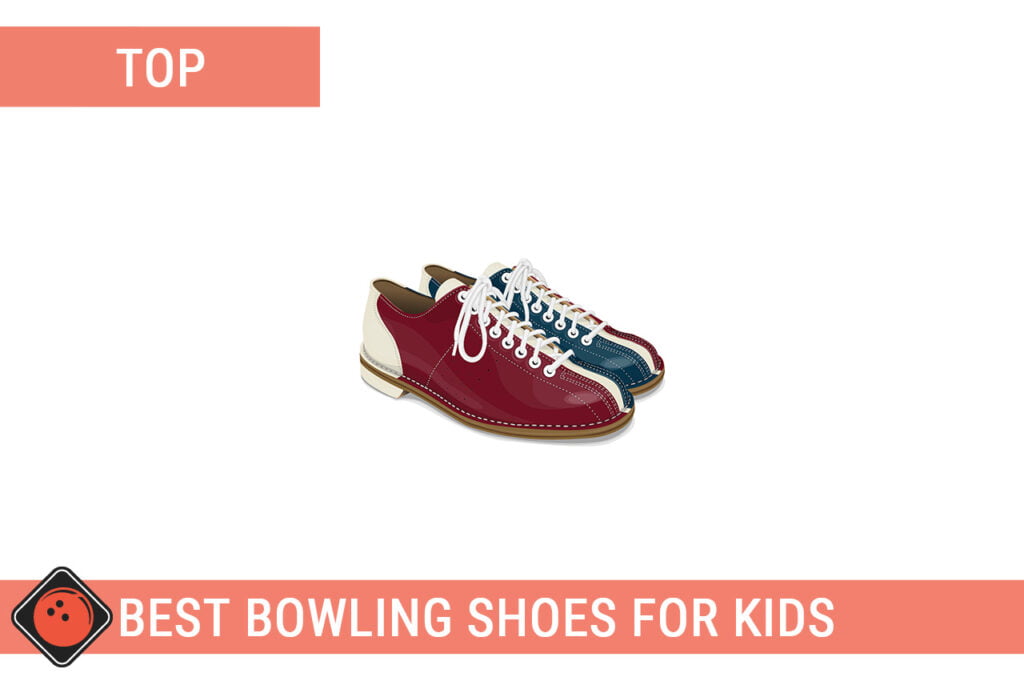 Top 5 Best Bowling Shoes for Kids
Pyramid Youth Skull Bowling Shoes
Available in other colors (Click to see)
If your kids are getting tired of the conventional-looking bowling shoes, then you might want to get them something that stands out. The pyramid Youth Skull Shoes definitely do. They have a classic style, perfect style, durability and they fit comfortably. You can find sizes for both kids and youth, and the sizes would fit any bowler perfectly.
These shoes can be worn for long periods without suffering from any discomfort. Feedback from customers that wore these shoes shows that they are both comfortable and durable, meaning they could be used without wearing out quickly.
For a great gift idea for your kids, you can always consider getting them bowling shoes. Being produced by a top brand, and have great such features, these shoes are worthy candidates to be that gift.
Brunswick TZone Bowling Shoes
Available in other colors (Click to see)
Brunswick has been producing several bowling shoe models to appeal to their more youthful customers. The TZone bowling shoes have been particularly designed with a classic look making them more unique. They were made to be comfortable, lightweight and durable as you wear them all day long.
Besides bowling, they can be worn for other athletic activities such as running, tennis, and soccer. And we can't deny that the silver/black colored design would look pretty great worn by your kid.
Brunswick Youth Renegade Bowling Shoes
Comfort and style combine beautifully in the newest Youth Renegade Bowling shoes from Brunswick. They went with a neon green and black color combo that will make your kid look and feel like a rock star. The green on the bottom is there to highlight the childish nature of the design.
On the central part, there is a white-colored pattern that's present to create contrast with the black and green colors.
A green crown is printed inside the white pattern to further accentuate its unique look. If your goal is the maximum amount of comfort, then look no further than this pair of shoes. Choose the Brunswick Youth Renegade shoes for your kids for comfortable bowling fun.
BSI Boy's Basic #533 Bowling Shoes
Here's a pair of shoes from BSI that should pique your interest. We've got a pair of shoes that were made for rough use and to be lightweight in the Boy's Basic #533. These shoes would be quite suitable for kids who are still learning to bowl. It was manufactured by BSI to be suitable for both left-handed bowlers and right-handed bowlers.
Besides the comfort and durability that this pair of shoes has, it also comes with a very stylish exterior design that gives off a very classic feeling.
One issue that these shoes address is the grip problem. Children always find a hard time finding a good grip during bowling games, but with the Boy's Basic #533, this issue is nothing but history. This is due to the fact that these shoes were manufactured to create enough traction to eliminate any slippering that might happen. So, basically, your kids can wear these shoes for a very long time.
If you've got a kid in their young age or teenage years that wants bowling shoes, this reasonably priced pair is quite a good choice.
Storm Meadow Bowling Shoes
Available in other colors (Click to see)
If you are looking for the best color combination to have during bowling, you can't go wrong with grey and pink colors. And the storm Meadow Bowling Shoes are the Pink and Grey bowling shoes for you.
The Women's Meadow is considered to be a part of a canvas shoe. When they put these shoes on, your children will get a sense of great comfort as they rock the beautiful exterior design.
Besides being incredibly stylish and immensely comfortable, they're also quite flexible, meaning that they can be worn all day long with no issue.
Any parent's expectation for any product that they buy for themselves or their kids is that the product would last for a very long time to justify the price that they pay for it. Well, you don't have to worry about that when you get these shoes. They'll last for way longer than you might expect.
All in all, what you get with the Storm Meadow Bowling shoes is quite significant for the price you're paying for them.
Choosing the Best Bowling Shoes for Kids – Buying Guide
So, we've talked about the best bowling shoes for kids.
Now what?
Well, it's time to help you choose the best fit for you by detailing the different features that you should look for the necessities they address.
Even if the shoes we presented do not meet your desires, after taking a look at this buying guide, you'll know exactly what you need and you'll be able to make your choice all on your own.
So, what should you consider when looking for the best bowling shoes for kids?
Durability
Well, we don't have to mention why this feature is certainly one of the most important aspects of any product you may get. Durability means less need for replacement. And seeing how bowling shoes are more expensive than regular children's shoes, you won't need to replace them more than once a year. When you make the right pick, you'll save yourself a lot of money.
When it comes to the cheaper models of bowling shoes, you'll find that most of them are made out of synthetic leather. Synthetic leather is lightweight and flexible. However, it is not so durable, especially compared to premium grade leather.
Design
In general, when it comes to bowling attire, you can wear any kind of clothes that you want. But recently, bowling shoes have become the trend. So, it would only be fitting that your kid's shoes match the shorts they rock.
We put the design in such a high place so that when you find the pair of shoes that meet your practicality requirements, it'll also look as good as your kid wants them to be. This will only increase the enthusiasm and the love for the sport in your child.
Inner Sole
It's not just about bowling shoes. When it comes to any kind of shoe or footwear that you'll consider getting, the inner sole becomes such a critical point to think about.
This is, of course, the part of the shoe where your child's foot is going to comfortably sit whenever they're wearing the shoes and playing the game. If it's not made out of the right material, they won't feel the needed comfort and the convenience necessary for proper bowling.
So, when it comes to the inner sole, we definitely recommend EVA. Besides it being reasonably priced, it also molds to fit the shape of your kid's foot, giving them great comfort.
If they're suffering from any kind of foot problem, then we highly advise that you get them a shoe with an inner sole made out of memory foam. On the downside, it can be quite expensive. And while polyurethane is reasonably priced, it does not mold the shape of one's foot.
Outer Sole
Now if we were talking about any other kind of footwear, one of the main features to look for is good traction and grip. But here, we're talking about the game of bowling, where sliding is a big part of the game and its technique.
The outer sole should be made out of rubber, and it should also have added microfibers. It will add some power to the shots you make and allow you to make perfect slides as you take those shots.
We should also mention that, aside from rubber, we don't recommend any other material for the outer sole. Rubber offers great durability and can withstand a lot of punishment.
Sizing
You can't just get shoes of any size and expect your kid to score amazingly in their bowling game. The shoes they wear must be of the right fit. If you get shoes that end up being too large, they might get uncomfortable and can even slip off when you wear them. Smaller shoes on the other side might end up causing your kid some pain.
Weight
A quick pace of movement is required when someone is throwing their ball during bowling. If they bowl with heavy shoes, your child will end up being too tired after playing. This will obviously influence their game negatively.
We advise you to look up the weight of the shoe you want to get and go with something lightweight and durable even if it might be a bit more expensive.
Additional Features
While the following features may not be as critical as the ones we mentioned above, they remain quite important in making a difference as they will influence your performance. This will differ from one person to another based on their level of skill.
Here are several aspects that we think you should keep in mind while looking for your child's next bowling shoes.
Added heel: While it does give your shoe a more stylish look, you might wonder if it enhances its practicality. Well, if you'd consider our experience, we find that it only adds to the weight of the shoe, making it a burden, especially as you slide. On the other hand, short players might find that it adds more power to their shots.
Toe: Some people go for a technique that involves sliding on their toe as they move. If you do so, then you should look for a shoe with a stubbed toe. Sure, it is not the most stylish of designs, but it's quite effective. You'll find a larger sole rim in the advanced shoes which can also help in sliding.
Inner collar: This is seen by most people as a very important aspect in any kind of shoe they wear. When it comes to bowling, a good inner collar will prevent any kind of abrasions and add extra comfort. It should also help wick any kind of built-up moisture in the shoe in case the wearer starts sweating.
Ventilation: Ventilation can become a key factor in this whole buying process, especially if the shoe is worn for long periods. Your kid might get great ventilation and they might get no ventilation at all. It will all depend on the materials that make up the shoe. So, choose wisely.
With all these added features, the price of the shoe that you'll get may get higher. But if you're kid is really into the game and considers themselves to be a serious player, then these additional features will definitely be quite helpful and worthwhile in the long run.
How to maintain and take care of the bowling shoes?
This is something that should not be ignored, if you want to get your money's worth and actually notice some difference in the bowling performance, then maintenance should be done frequently. The shoes will have to be cleaned and checked to get the best results you're looking for and to extend their lifespan.
Here is what you should know about bowling shoe maintenance:
Brush Them After Each Game
Brushing the shoe might add some more traction to it and this will be in your kid's advantage as a bowler. But you shouldn't do this too much or else it might make you unable to slide with them, which will hinder your game. Also, don't forget to wash the shoes to get rid of any oil from the outer sole.
Shoe Covers
You might not think that this necessary, but a shoe cover will definitely help in keeping the uppers from being damaged.
They are quite affordable and will prevent any liquids from slipping in and ruining your kid's shoes.
Disinfect Them Often
Don't let bacteria build up inside the shoes. When you disinfect them, you get rid of sweat and extend the lifetime of the shoes as well as maintain their durability.
We advise you to do this after every game to keep your shoes thoroughly cleaned and ready.
Picking the Best Bowling Shoes for Kids – Frequently Asked Questions
Can my kid use sneakers for bowling instead?
While it is certainly possible, playing bowling with sneakers is not really recommended.
The main issue with sneakers is the outer sole. The sole needs to be soft to allow proper gliding and the sole of sneakers is usually not soft enough.
Besides that, they're not always permitted inside bowling alleys.
Can't I just rent bowling shoes for my children?
Sure, renting might seem like a good solution in the short-term. But as time goes, by, you'll realize just how much money you're wasting.
On the other, if you buy your kids their own bowling shoes, it will be a one-time payment and will surely be the most economic solution in the long-term.
Verdict
There you have it; everything you need to pick the best bowling shoes for kids. Now, your child will have no excuse to skip their next bowling game!
Last update on 2023-06-05 / Product Images