If you're looking to get into bowling, you should probably know that you need to invest some money in order to get the most out of it. To do so, you're going to need some high-quality bowling balls. Problem is, these balls tend to be expensive.
In this article, we'll be listing the most expensive bowling balls so you get the most out of your purchase. There are plenty of balls to choose from, but we're going to sort out the best of the best.
Comparison of the Top 5 Most Expensive Bowling Balls
Brunswick DV8 Bowling Quantum Bias
Ball Color
Black / Turquiose / Violet
Ultramarine / Persimmon / Black
Radius of Gyration (RG) *
Factory Finish / Type
Polished / 3000 Grit Abralon
Matte / 500 and 1000 Siaair Micro Pad
Matte / 500 and 2000 Abralon
* Core Specifications are for a 15 lb bowling ball.
---
Don't be fooled into thinking that just because all balls look the same, they also feel and play the same. Some balls are meant for beginners, others are meant for experts and some are made for intermediate players. No matter the case, this article will help you find the best quality bowling balls.
So, without further ado, here's your guide to the most expensive bowling ball!
Top 5: The Most Expensive Bowling Balls Reviews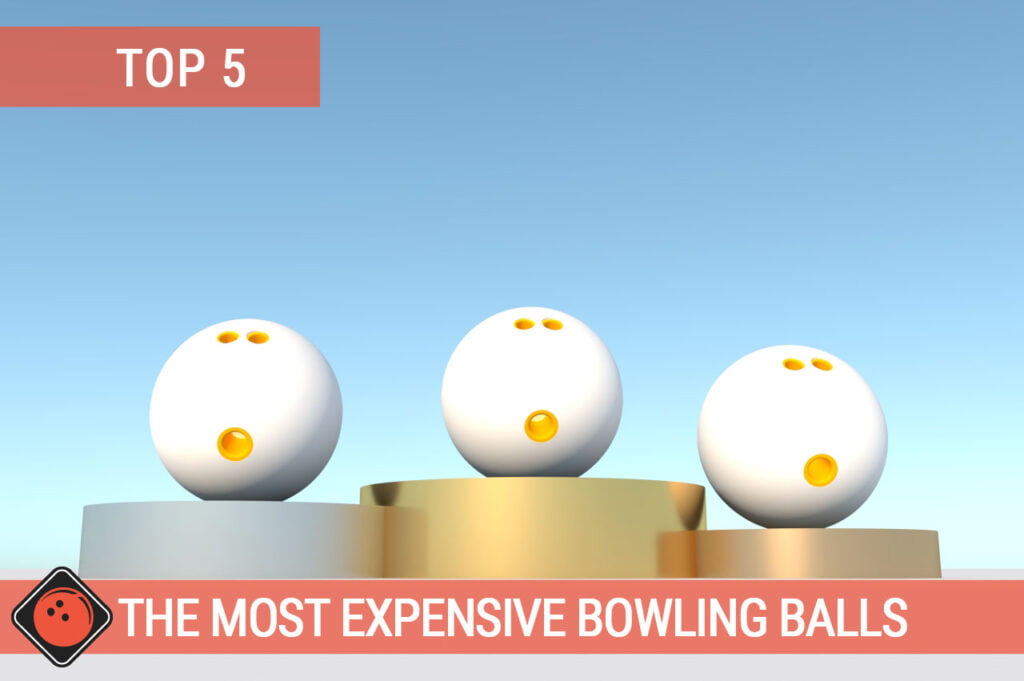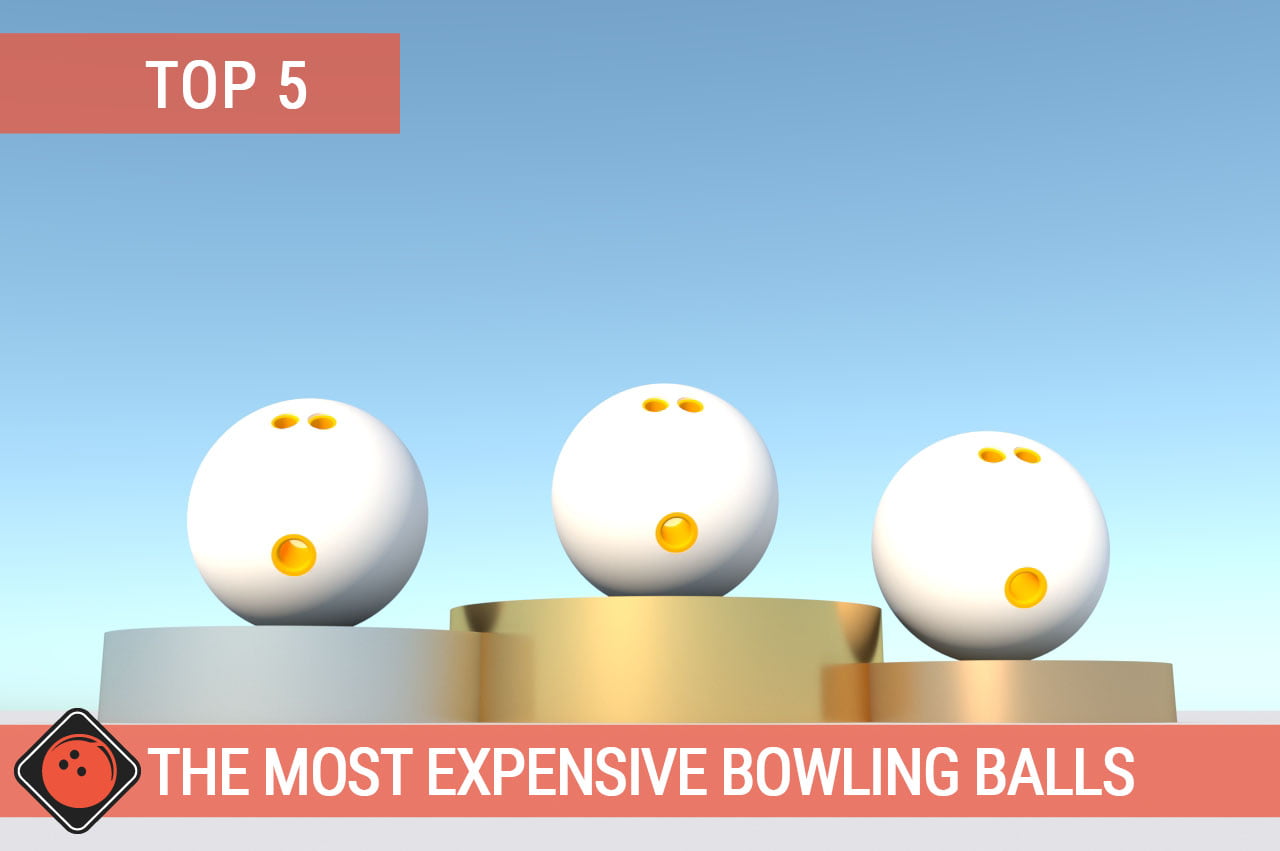 1. Storm Code X Bowling Ball Review
The Storm code x is designed all-around packing as much of a punch as possible. It can deliver great performance on heavy oil lane conditions with a predictable and controllable hook potential. These qualities allow it to easily pass through the front and middle of the lane and still have enough energy to violently knock the pins.
Another great thing about the Storm Code is its predictable reaction. Thanks to its R2S cover stock which is under the RAD4 core, what you're getting is an extremely durable ball that can resist almost anything that can chip away at it or cause it to crack. The RAD4 is also great in that it gives bowlers various fine-tuning capabilities.
In order to give the ball extra length and hook, an Abralon pad is used in the finish. This results in a smooth flow on the front and middle lane with minimal energy loss. Additionally, the Storm Code provides a great backend reaction as well as continuous motion through pins. All of this is thanks to the ball's unique design.
The Storm code is designed with an asymmetrical piece that offers excellent motion. It also provides you with a better hook as well as better extended patterns.
All in all, you can't go wrong with the Storm Code X. This ball will ensure that your shots are precise since it rolls straight on oily surfaces. But what's even better is that it delivers great results regardless of the lane conditions.
2. Storm Intense Fire Bowling Ball Review
There aren't many bowling balls that live up to their names. However, this one is an exception. The Storm Intense Fire is an extremely powerful ball that can deliver violent and stylish knockdowns. It has perfect angular late friction reaction which will allow you to perform a clean hook and will send pins flying.
It uses an upgraded cover stock called R3S which offers stronger reactions. What's different about this ball is its asymmetric weight block. Most other storm brands have a symmetric weight block.
What this means is that the Storm Intense fire has stronger and longer motion on the down lane which is what gives it those violent knockdowns. It also features impeccable backend response.
3. Brunswick Quantum Bias Bowling Ball Review
The Brunswick Quantum Bias bowling ball is the only Brunswick Quantum ball with an asymmetrical core. As a result, this one packs a mean punch with extreme precision.
Words can't give this ball justice when it comes to how fun it is to use. It has a fantastic reaction in heavy oil conditions too.
4. Ebonite Verdict Bowling Ball Review
If you're looking for an aggressive, hook-heavy ball that packs a strong punch, then this is one of the best bowling balls that you can get. The Ebonite Verdict bowling ball is designed specifically for those bowlers who have been refining their hook. This bowling ball can give you just the right push to take your hook game to the next level. This ball can significantly improve your hook thanks to its unique design and technology that's being used.
The Ebonite Verdict features Ebonite's all-new GSV-1 cover stock as well as the Justice core. The cover stock allows the ball to have a high friction rate which will help prevent the bowling ball from hooking down. This is why this ball is known to greatly help take any bowler's hook to the next level.
As for the Justice core, it is a 3rd generation warrior core which is great for improving mid-lane traction as well as backend continuation and sharpness. Additionally, the Justice core features a 500 to 2000-grit abalone backend factory finish as well as aggressive mid-lane traction. One last thing to note is that this is one of the more durable reactive resin balls out there.
5. MOTIV Jackal Ghost Bowling Ball Review
If you're looking for the most expensive bowling ball that is also the best at handling oily lane conditions, then the MOTIV Jackal Ghost might be right up your alley. This is one of the best heavy oil hook monsters money can get you. This ball also boasts amazing reactivity and flare potential which are capable of transforming the most violent hooks into effective hooks.
Choosing the Most Expensive Bowling Ball – Buying Guide
This buyer's guide should help you find the most expensive bowling ball with the best features and design for you. Since this won't be a light investment, you need to make sure that the money you spend will go into the most comfortable and best-quality bowling ball there is. In order to be able to make that decision the best way possible way, there are a couple of factors that you need to consider when you're looking for the most expensive bowling ball.
Weight
Weight should be the number one factor in choosing the most expensive bowling ball. In order to make sure that the ball you're going to buy has the optimal weight for you, you need to make sure that the size of the finger hole is right. If they're too small or too big, then the ball is too light for you. Another thing to keep in mind is how much you weigh and how tall you are.
With that said, if you're looking for the most expensive bowling ball to get for your child, then you can use their age as a reference to determine the weight of the bowling ball that you should look for. One last thing we should mention is that the minimum weight of a professional bowling ball is 12lbs. and it should not exceed 16lbs.
Material
The next most important thing to take into consideration is the material in which the ball's core is encased. It is also called the cover stock. There are numerous types of cover stocks such as resin, urethane or plastic (polyester). Each cover stock has its own pros and cons.
For instance, urethane and resin balls are designed around hook potential which allows them to be more controllable and predictable. Reactive resin can absorb oil which allows them to perform well in medium to heavy oil lane conditions.
Urethane, on the other hand, is much less porous, and as a result, it will hook too much in these conditions. However, it performs best on dry lanes. It is also the most beginner type of cover stock. If you're looking for the most expensive bowling ball as a beginner then you can't go wrong with the best urethane bowling ball.
As for Polyester bowling ball, they are most commonly found in regular bowling alleys. They are the cheapest among the other types but are quite durable. Their main advantage, besides their low cost, is the fact that they can keep a straight trajectory. They are best used on dry lanes. With that said, you'll see some professionals use them from time to time.
The current trend when it comes to cover stocks is reactive resin. Reactive resin is also classified as reactive hybrid, reactive solid, or reactive pearl. Solid bowling balls offer a stable roll. Pearl bowling balls function similarly but have lower friction in the oilier parts of the lane, they allow for an easier and more consistent sharp hook. Hybrid bowling balls combine both solid and pearl. You'll notice that they usually have two colors. Each color represents a different part, one is for the solid part and the other is for the pearl part. These bowling balls offer a great balance for landing consistent strikes.
With that said, the main star in any bowling ball is its core. It is what determines the weight off the ball and there are three types of cores to look out for. First of all, there are pancake-type, asymmetrical, and symmetrical cores. It's also important to note that you can customize your bowling ball to your heart's content so it feels comfortable in your hands. You can also have custom drills made for your fingers to ensure that perfect fit. However, you'll have to pay extra for those services.
Grip Type
The way you put your fingers in the holes of the ball is referred to as the grip type. There is the conventional grip type and the fingertip grip type.
The conventional grip type is the more common type among the two. In this type of grip, you're allowed to fit your whole thumb into the ball and let your ring and middle fingers reach the second knuckle.
The fingertip grip is very similar to the conventional grip. However, in this grip, the ring and middle fingers reach the first knuckle.
Which type of grip you choose should ultimately depend on your personal preference. Go with the grip that feels the most comfortable.
Custom Drilled Balls
You can find bowling balls that don't have any holes when you first buy them. These balls are meant to be custom drilled for your own fingers. In fact, the most expensive bowling balls are the ones that don't have any holes when you first buy them.
If you're looking for the most expensive bowling ball, then you should probably be looking at buying a custom drilled one. With that said, this type of investment should only be made by someone who's planning on taking bowling very seriously.
The way this works is by having the bowling shop take measurements of your hand, leave them with the ball for one day and your ball should be ready by then.
The main advantage of having your own custom drilled ball is how comfortable and easy it will be to handle and throw. If you're truly looking for the most expensive bowling ball, then your best choice would be a custom made one.
Style
The final factor that you need to take into consideration is the look for the ball. Since you'll be paying a good amount of money, you'll need your ball to look as stylish as possible.
When you're looking for the most expensive bowling ball, it's important that you get one that reflects your own style and one that will look good when it's knocking down pins left and right. Thankfully, the most expensive bowling balls are all beautifully made so you'll be spoiled for choice in that department.
Picking the Most Expensive Bowling Ball: Frequently Asked Questions
Is it worth investing in the most expensive bowling ball?
If you're looking to be competitive, then the answer is yes. The fact of the matter is that the best bowling players and those who consistently top the competition lists are those who own the most expensive bowling balls. This is due to a lot of reasons.
First of all, the most expensive bowling balls tend to have the most advanced core and best cover stocks which allow any player to instantly improve their technique and chance at landing their shots.
Secondly, there's the fact that the most expensive bowling balls are mostly custom made to perfectly fit the hand of the player which drastically improves their performance. No matter how good your technique might be, a good ball will only improve on it.
With that said, if you're only looking to have some fun and not be competitive, then you should probably not opt for the most expensive bowling ball right away. If you're still a beginner or just don't have the budget for it, there is a wide bevy of great and affordable bowling balls out there.
How do I maintain my bowling ball?
As long as you use cleaners that are made specifically for the cover stock of your ball, you should be good to go.
What is the world's most expensive bowling ball?
In general, the most expensive balls are the Collectible balls, old and rare, limited edition versions. The prices for these balls usually go from 300 USD to around 1000 – 1500 USD. To name a few:
• Brunswick 1oz 9k Gold Flakes Bowling Ball Gold Crown Sparkle Vintage Rare.
• Roto Grip Golden Globe Collectible Bowling Ball.
• NIB Storm IQ Tour Gold Pearl Tour Bowling Ball.
The most expensive ball that you can find at the moment on auction platforms is:
• MIKASA mg Clear Acrylic Bowling Ball.
It's not very clear why the seller put a such high price, but this bowling ball costs a whooping 5000 USD. These Mikasa bowling balls have been made in Japan in the 1970s, but it's not very unique. Moreover, these balls are now illegal and cannot be used because they are constructed with a void in the center. Also, the ball it's tough to drill because it's very durable, around 90 points on the durometer.
Verdict
If you're looking to up your bowling game to the next level, investing in the most expensive bowling ball is a good idea since it can significantly improve your winning chances and help you place higher in tournaments. All of the balls we mentioned on our list are an exquisite choice for everyone who's looking for the most expensive bowling ball.
---
Last update on 2023-06-05 / Product Images