Even though Urethane bowling balls are no longer as popular as they used to be, they are by no means obsolete. In fact, there's a good number of people who still use urethane bowling balls instead of their newer reactive resin counterparts.
That's mostly due to the fact that the difference between the two is mostly subjective, and those who have grown accustomed to the feel of urethane-covered bowling balls can still get some excellent results with them.
Once you've read this article, you'll hopefully understand why so many people have stuck with urethane bowling balls. We'll be listing five of our favorite urethane bowling balls as well as a detailed guide which will help you find the best option for you.
Comparison of the Top 5 Best Urethane Bowling Balls
Radius of Gyration (RG) *
Factory Finish / Type
Pad / 360/500/500 Abralon
Matte / 500/1000/2000 Abralon
Matte / 2000 Grit Abralon
* Core Specifications are for a 15 lb bowling ball.
---

Without further ado, here our recommendations for the title of the best urethane bowling ball!
Top 5: Best Urethane Bowling Balls Reviews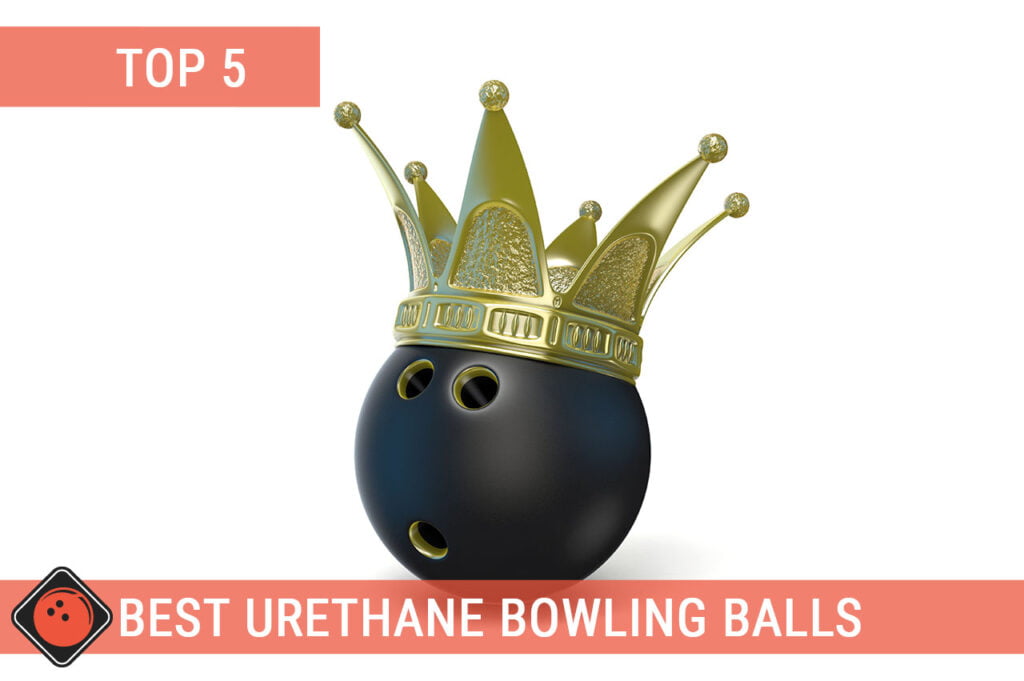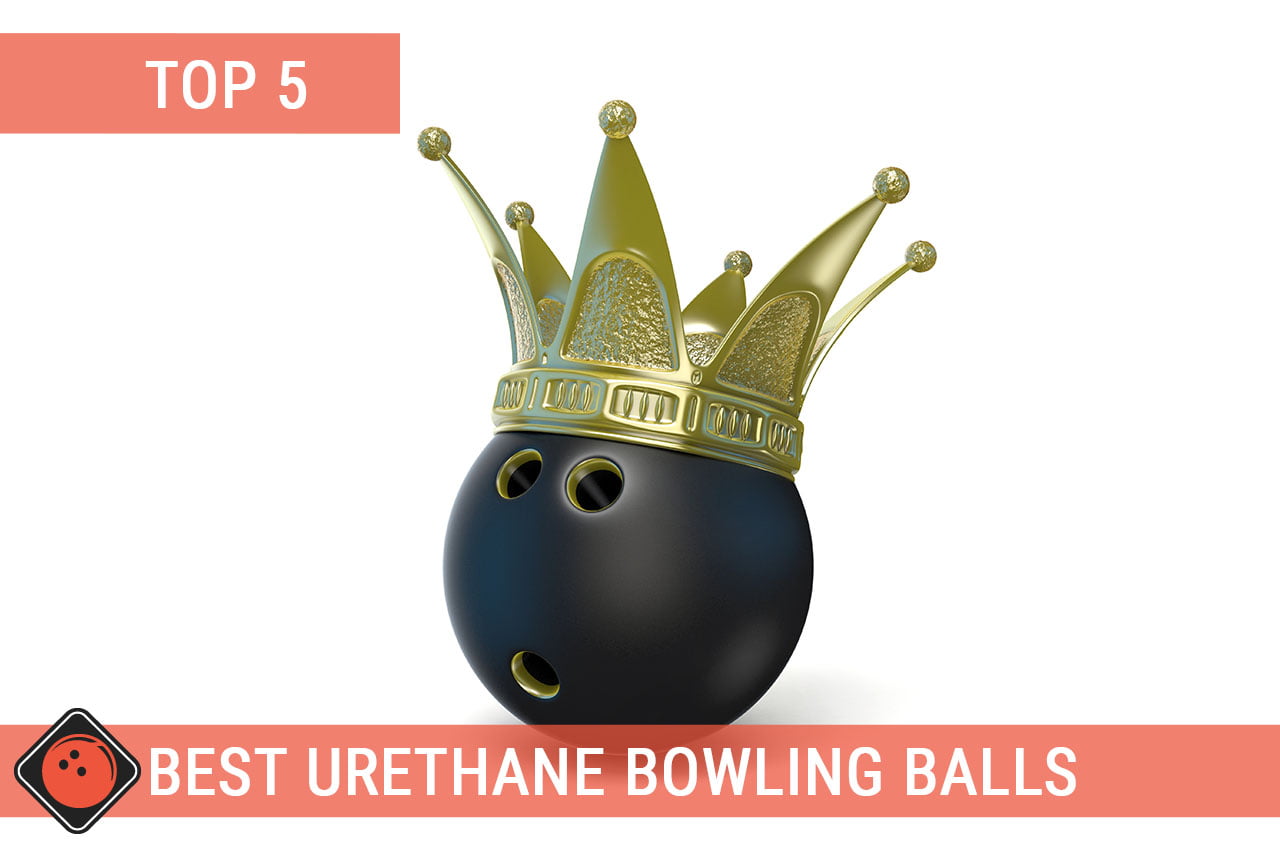 1. Storm Mix Urethane Ball
If you're looking for a durable bowling ball, then look no further than the Storm Mix Urethane Ball. Not only is this the best urethane bowling ball in terms of durability, but it's also the best urethane bowling ball for icing spare shots. It has been designed to help players ice their spares every single time.
Additionally, you can make it work just as good for striking on dry lane conditions, which is one among many things that separate it from the rest. This is one of the few balls that actually lives up to its name, helping you claim your victories in a stylish and bombastic fashion. Another thing that we really liked about this Storm Urethane Bowling Ball is that it's just as good to use both as a beginner and a veteran bowler. We'd even go as far as to say that this is a must-have if you're looking for the best spare bowling ball.
On top of that, the Storm urethane ball comes with a traditional 3-piece core and a Urethane coverstock. This greatly improves the ball's predictability as well as its durability. When it comes to its competition, this one easily takes the throne thanks to the super U1 first-generation Urethane coverstock, which is the most durable cover stock the company offers.
2. Storm Pitch Black Bowling Ball
Judging from the huge number of excellent bowling ball reviews that this ball has gotten, it's safe to assume that it's probably seen as the best urethane bowling ball by a good number of people. The Storm Pitch Black Bowling Ball balances fantastic performance and ball control. No matter what your skill level might be, this solid urethane ball is extremely fun to use. It has Control Solid urethane coverstock as well as a Capacitor core, which allows you to control the ball.
Additionally, this ball has the 1,000-grit pad factory finish, which means that the ball will roll down the lane very smoothly. All in all, this is not far from the best urethane bowling ball. You can never go wrong with this one. We should also add some bonus points for how great this ball's aesthetic is. Another great thing that makes this a contender for the best urethane bowling ball is the fact that it performs just as well in dry lane conditions as it does in wooden lanes.
3. Hammer Black Widow Urethane Bowling Ball
What makes this ball a contender for the best urethane bowling ball is its perfect blend of Gas mask core which is wrapped inside the Urethane coverstock. What this means is that you can use it for throwing a hook.
Another thing that's worth mentioning is the fact that this ball is infused with carbon fiber, which makes it one of the most durable bowling balls out there. In fact, the bowling ball manufacturers are so sure of the durability that they offer 3 years of warranty.
If you're looking for the best urethane bowling ball, you definitely can't go wrong with this one. The Hammer urethane bowling balls are counted among the most well-known and trusted out there. Hammer is known for its hitting power as well as its sturdiness and durability, which, when combined, produce consistently good results.
4. Hammer Purple Pearl Urethane Bowling Ball
If you're searching for the best urethane bowling ball in terms of back-end reaction and finish, then you might want to check out Hammer's Purple Pearl ball. Unlike the urethane bowling balls we've mentioned so far, this one performs best in oily lane conditions rather than dry ones. In fact, it offers excellent hook potential on medium to heavy oil lanes with just as much power as a reactive resin bowling ball.
5. Storm Fever Pitch Urethane Bowling Ball
This is an upgrade from other Storm Pitch bowling balls, which offers a more aggressive coverstock. What this means is that you'll be getting more violent and angular pin impacts. It also has an innovative new coverstock PWR+CTRL technology, which makes it extremely durable and offers an excellent light oil hook potential and impeccable straight-line power.
Choosing the Best Urethane Bowling Balls – Buying Guide
With so many options available on the market, finding the best urethane bowling ball that feels just right can be a difficult thing to do. There are plenty of things that you should keep in mind when picking the best urethane bowling ball. Here are four of the most crucial factors that can help you determine the best choice for you.
Weight
This is the most important thing to take into account when you're out there looking for a good urethane bowling ball. To determine the optimal weight for you, remember that the ball should weigh around a tenth of your overall body weight. Keep in mind that there is a limit to this rule, and that is when the ball starts to weigh more than 16 lbs. It's best to choose best bowling ball that weighs less than 16 lbs.
At the end of the day, your choice should always come down to your personal preference and which ball feels the most comfortable to hold. The rules we just mentioned are not mandatory to abide by, but they provide a good general guideline to help you narrow down your search by a reasonable amount.
Grip
It is imperative that the bowling ball you buy feels comfortable to hold. It is even more critical that you're able to firmly take hold of it in order to maximize your control of it. Even though the main determining factor in this area is the coverstock of the ball, the best grip would be that of a ball that is custom-designed to fit your measurements.
Hook Potential
A bowling ball's hook potential is its ability to bend sideways when you throw it onto the lanes. This is mostly determined by the flare potential rating. It can also be determined by the radius of gyration rating. The most commonly recommended flare potential rating among experienced bowlers is 6 inches or above.
Coverstock
The coverstock refers to the material that lines the bowling ball and is, in many cases, the primary defining factor of the price in the most expensive bowling balls. There are numerous available coverstocks, such as particle, resin, polyester, and urethane. Actually, almost all these coverstocks are polyurethane bowling balls, with the difference of the used additives that will give the final material different porosity, which will increase or decrease the friction with the bowling lane.
There is no king among these coverstocks. Each one has its pros and cons. For example, urethane bowling balls are known for their extremely high durability.
Picking the Best Urethane Bowling Ball – Frequently Asked Questions
What are urethane bowling balls?
Urethane bowling balls are known for their high durability when compared to regular plastic balls. They have more friction with the lanes, which makes them easier to control. As a result, they also tend to have more hook potential.
How do I clean a urethane bowling ball?
Urethane bowling balls can either be cleaned using alcohol or special cleaning agents such as Storm Reacta Shine or Monster Tac if you want to clean up your ball thoroughly.
Do urethane bowling balls absorb oil?
Contrary to what some people might think, urethane bowling balls don't absorb oil. They are much less porous than the newest particle and reactive resin bowling balls. If urethane bowling balls did absorb oil, they wouldn't be known for their durability.
As a result of this, urethane bowling balls don't react to lane conditions as much as the other balls might. Since oil absorption is minimal, urethane balls tend to not have as much friction to different lane conditions. This means that the best conditions to use them in are dry ones.
One other thing to keep in mind is that medium and heavy oil lanes can prove to be problematic when using urethane bowling balls.
How can I increase the hook on a urethane bowling ball?
If you want to maximize your hook with a urethane bowling ball, then you need to use it in the ideal conditions. This means that you must use it in dry conditions. You also have to make sure that you make a parallel move, which will help make it hook early on.
How can I drill a urethane ball?
If you need to drill a urethane ball, you need to take it to a professional bowling ball driller.
What are the advantages of a urethane bowling ball?
Aside from their high durability, urethane bowling balls are known to have more hook. They are also easier to control, making it easier to land your shots with them, especially in dry lane conditions.
Why should I use a urethane ball for spare?
As we mentioned earlier, urethane bowling balls tend to give you more hook and a more controllable shot as a result. Consequently, this makes them optimal for spare.
How can I layout a urethane bowling ball?
There are three main types of layout. The first one is the fingertip grip, the second one is the knuckle grip, and the third one is the conventional grip. Your choice regarding which one to use should depend on how comfortable the layout is when you're bowling, so it's mostly dependant on personal preference.
Verdict
Even though urethane bowling balls are not as popular as they once were, there's no reason to stop using them as they offer plenty of significant advantages that make them great and fun to use by players of all skill levels. As a matter of fact, a lot of experienced players would pick a urethane bowling ball over a reactive resin one as their strike ball.
If you're going to bowl in mostly dry lane conditions, there is no reason to skip getting a good urethane bowling ball as their low reactivity with the lanes makes them especially great in those conditions. You simply can't go wrong with any of our five top picks. A good bowler can make some magic happen if they use these balls in the right situation.
---
Last update on 2023-05-30 / Product Images