When we talk about most popular bowling balls, only a few brands will usually come to mind, especially for professional or seasoned bowlers. And that's pretty normal because there are bowling balls companies that are known to make better balls than others.
So when we talk about quality and features, we always look toward the bowling brand bowls that are pretty well-known and well-loved by various bowlers. As bowlers, we definitely know our balls, which is why we also know which brands you should always look at.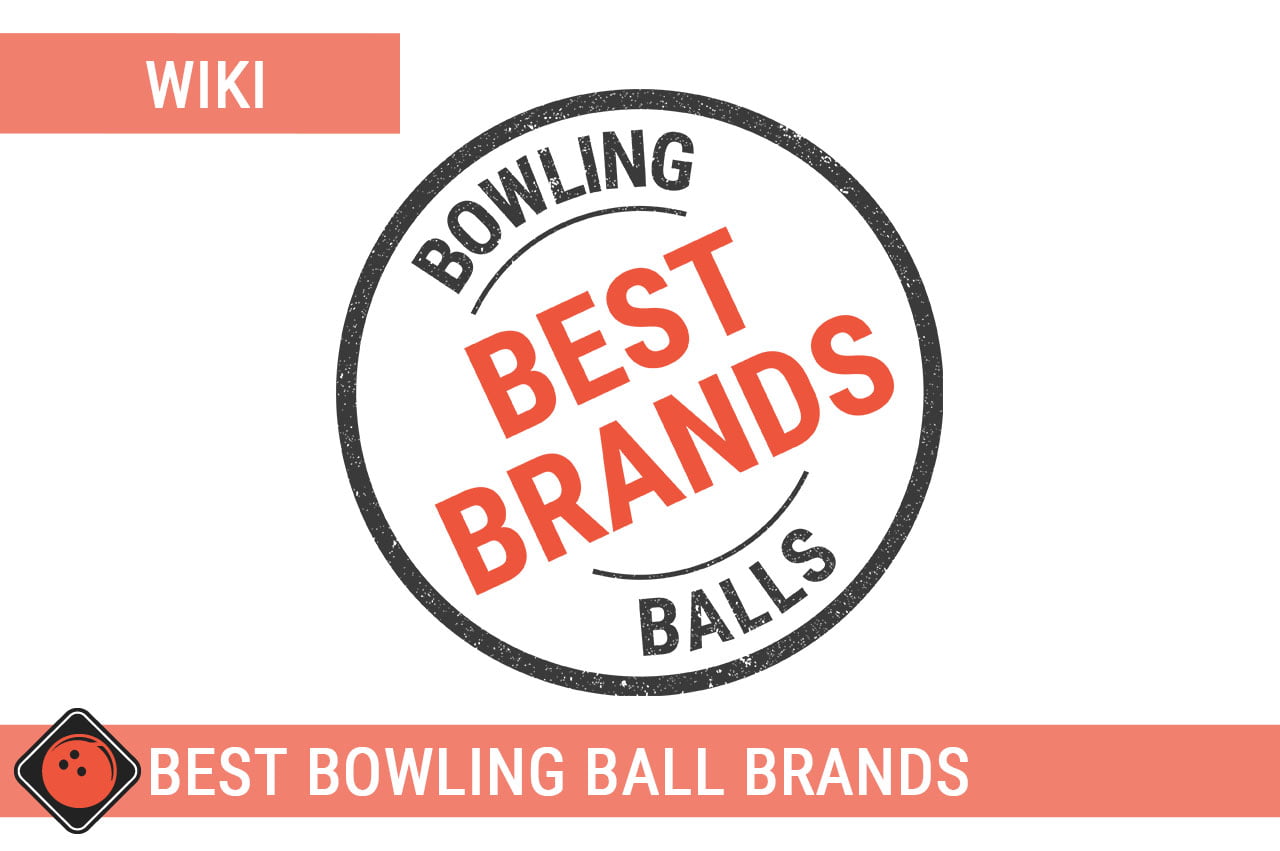 Top 10 Best Bowling Ball Brands Reviewed
If you're the type of bowler that can really appreciate amazing bowling balls, then you'll love this list. We'll list down some of the best bowling ball brands in the market. This bowling ball brands list is also suitable for beginners since it gives them an idea from which brands to buy their balls.
Check them out and see which one of these brands appeal to your bowling preferences:
1. Brunswick
No list is complete without Brunswick. Brunswick is probably one of the most well-known brands in the bowling industry because of its long-lasting legacy in the sports equipment market. They've been around ever since before World War 1, making them one of the oldest sports equipment brands to date. In fact, records have shown that they've been around since 1845.
However, they dabbled more into billiards during that time, so their main line consisted of billiard tables and other tables for table games such as table tennis and table hockey. It was only in their later years that they put their money on bowling equipment, primarily on bowling balls. Just to give you an idea, the people behind Brunswick are actually the people behind the United States Bowling Congress, so you're pretty sure that they know their stuff.
With a reputation like that, you've got a line of high-quality bowling balls that come in different varieties and types. Brunswick is also known for creating various innovative balls that have different features. All these features are guaranteed to help improve your overall game performance.
Some of the most popular bowling balls that come from Brunswick include the Brunswick Rhino and the Brunswick Tzone, both of which provide very smooth movement and versatility while you're in the game. You're sure to feel very comfortable with these balls (or pretty much any other ball from the Brunswick brand).
When you're buying a Brunswick ball, you're purchasing the legacy that the brand left of many years of expertise in the sports equipment industry. That legacy of theirs for overall quality is pretty much the reason why we put Brunswick in the top billing of our list.
Brunswick Most Popular Balls:
---
---
2. Hammer
Another bowling ball company that we'd like to include in our list is Hammer. Hammer hasn't been around as long as Brunswick has, but they do know their stuff. Hammer is known for catering to professional bowlers for their games. They serve mostly intermediate to high-level bowlers because of their state of the art quality. That's why their balls are so popular.
Of course, Hammer wasn't always that high-end bowling brand that we know of today. Hammer used to be down in the dumps when it first opened in the late seventies. Hammer wasn't well-known as a brand and didn't have the right exposure to help them push up their brand. With competition against top bowling ball brands, they had a hard time penetrating the market.
Eventually, they were able to gain the recognition that they have now by putting their logo on the side of the ball and exposed it in a PBA game. With this, they finally attracted a lot of attention from bowlers everywhere. Of course, this only attracted exposure and curiosity of potential clients, but what really made them buy the ball and stay with the brand was the Hammer quality of their top urethane bowling balls. At that time, Hammer was the only bowling brand to have made the 2 piece urethane ball, which was already a big thing.
You can say that the story of Hammer is one of those inspirational stories wherein a brand suddenly got its big break after significant TV exposure. After that, they consistently improved themselves and got ahead of the market.
Hammer Most Popular Balls:
---
---
3. Pyramid
Although Pyramid brand is a rather new player in the game, it continued to get a lot of traction in recent years because of the high-quality products that they produce and their very aggressive marketing. The combination of both aspects allowed the brand to propel forward, allowing it to earn itself a name in the top bowling ball companies.
Pyramid was established only sometime in 2011, but they suddenly propelled because they were able to establish themselves in the market due to a niche. That time, the bowling market had very few affordable but high-quality balls. If you wanted to buy high-quality balls, then you had to spend. However, Pyramid was one of the few bowling balls companies who were able to break that pain point somehow and offered players an alternative to the traditional expensive high-quality balls.
With that, they were able to gain a lot of interest through word of mouth. They then beefed up their marketing and was successful in cutting out a slice for themselves in the market. Today, they are one of the most trustworthy bowling balls brands in the market. No bowler doesn't know about Pyramid's name.
Some of the well-known Pyramid bowling ball models that you're probably familiar with include the Pyramid Path Rising Pearl Ball and the Pyramid Force Ball. Both are mid to high-level performance balls but still in the somewhat affordable price range.
Pyramid Most Popular Balls:
---
---
4. Storm
Storm brand is somehow in the same league as Brunswick in terms of popularity because of the innovation brought about by the brand. Storm is one of the few bowling brands that emphasize the versatility of ball performance.
When we talk about versatility, we mean that it's a great brand for all ages, all skill levels, and situations. Whether you're new in bowling or an old hand already, you'll find that there is a Storm ball that will work for you. You don't even really need to crack into the ball. When you pick it up, you won't have any trouble using it at all. You can get some excellent scores once you start using the ball.
The cool thing about Storm is how it started. Back in the day, the brand didn't even focus on ball manufacturing at all. They actually made bowling ball cleaners and established their brand name for that. Eventually, they did venture into bowling balls manufacturing and enjoyed great success. Storm was the name of their first ball's line. Since it was so popular, they decided to create more Storm balls. Eventually, the brand Storm was born and stuck ever since.
With the Storm brand, they cemented their name in the bowling ball market with various innovations. Some of the excellent balls that they've already made are the Storm Crux Prime and the Storm Code X Bowling Ball.
Storm Most Popular Balls:
---
---
5. Motiv
Motiv is another bowling brand that you've most likely heard of if you're an avid bowler. Just like Storm, they have a pretty interesting backstory. They started as a bowling company that only made and sold bowling ball cores. Motiv was pretty known for their innovative ball cores that they eventually decided to enter the bowling ball market. Upon entering this market, they also experienced some success in terms of popularity and sales.
However, they became trendy because of their unique NeoMark technology. What this technology does is that it embeds the graphics of the ball's logo into the coverstock. Because of this technology, there is no need to engrave the logo on the ball itself.
Back when Motiv created their balls, they realized that engravings actually affected the performance of the ball. Because of carvings, the ball loses some of its smooth movement and speed. With the integration of graphics on the ball itself, the ball increased overall performance. Not only does this technology give the ball better performance, but it also provides the ball with a more delightful look.
In fact, the integrated graphics on the coverstock is something that can make a Motiv ball stand out from other balls. That's why Motiv balls actually look much more different than other bowling balls that you can see in the market. The Golden Jackal and the Venom Shock balls are some of the best looking and best performing ones.
Motiv Most Popular Balls:
---
---
6. Ebonite
Ebonite is a genuinely cool brand that grabs the attention of a lot of people. In fact, Ebonite is a household name among the bowling community. The main selling point of Ebonite is its large selection of different kinds of bowling balls. Ebonite offers various models of balls to cater to different types of bowlers. So whether you're a beginner or a professional, Ebonite has a ball that's ready for you.
While Ebonite is different from Hammer, the previous bowling ball brand that we mentioned, Ebonite now owns Hammer, so they also maintain the same quality for Ebonite balls like in Hammer.
If you are already a loyal customer of Hammer, then you can try out Ebonite's balls as well since they come from the same mother company. You'll also find the prices of Ebonite balls to be quite reasonable. They don't scrimp on quality, and they don't shoot up the price of their balls at the same time. So if you're looking for high-quality balls offered at very affordable prices, then you'd best look at the Ebonite balls. Just to give you an idea, some of the known products that they've manufactured include the Ebonite Choice Pearl and the Game Breaker Pearl Ball.
Ebonite Most Popular Balls:
---
---
7. Roto Grip
Roto Grip was a separate brand that was established sometime during the fifties. However, they were eventually bought over by Storm, and they changed since. Roto Grip was already actually a pretty known name in the bowling industry, starting in the fifties, but it wasn't a trendy brand. When Storm took over, the Roto Grip brand made a huge turnaround and became one of the most well-loved bowling ball manufacturers in the market.
Aside from continuing to make very innovative and high-quality designs, they also beefed up their marketing and promotional materials. Because of their marketing efforts, they were able to pin their direction to international sales. And this further bolstered their profits, making them rack in a lot of money and making them gain a big name.
This brand is known for creating balls that further enhance the overall skills of bowlers by making the balls very comfortable. Because of the innovative way the balls are made, many customers swear by Roto Grip's performance enhancing features.
Roto Grip is the brand that is known for creating some of the best bowling balls, such as the Roto Grip Ink Blue Ball, the 15 pound Roto Grip Halo Pearl, the Roto Grip Hyper Fused Jet and many more. These balls are a big hit among professional bowlers and more advanced bowlers.
Roto Grip Most Popular Balls:
---
---
8. Columbia 300
If you're a fan of using polyester or plastic balls for your straight shots, then you're most likely familiar with the brand Columbia 300. Columbia 300 is the bowling ball brand that most of the beginners flock to since beginners, and also junior bowlers usually focus on their straight shots. In order to do a good straight shot, you need to buy a good plastic ball. There's no brand that knows more about how to make an excellent plastic ball like Columbia 300.
The brand was first created sometime during the sixties, wherein they already started manufacturing plastic bowling balls. They created easy-to-use plastic balls to cater to beginners or even starters who have not mastered the straight shot yet. They also targeted the entry-level bowling market that couldn't afford the higher end bowling balls. Until now, they highly focus on creating affordable but high-quality plastic balls for beginners. However, they also did create a few high-end balls that you can check out. Their balls are generally straightforward to use, even for younger players.
Some of the well-known models of bowling balls that this brand provides include the Columbia 300 Savage Life and the Columbia 300 Chaos. Other than those two, you also may want to try out the Columbia 300 Nitrous if you want smooth straight shots.
Columbia 300 Most Popular Balls:
---
---
9. DV8
Bowlers who usually use Brunswick balls will feel right at home with the DV8 balls. Why? Because DV8 is a brand that's also under the Brunswick Corporation. You can say that Brunswick balls and DV8 balls are like sisters. This brand was created around 10 years ago. When it was launched, it created a lot of traction because bowlers who were familiar with Brunswick wanted to see what new brand Brunswick Corporation thought of. Compared to Brunswick balls, DV8 balls look much more robust. Because of that, they are more targeted toward the rougher bowlers. Their designs are also pretty attractive because they are somewhat different from the traditional Brunswick designs.
Concerning performance, you can expect the ball to have excellent control while streaking down the lane. If you're into fast and hard shots, then DV8 can be a pretty good alternative to the smooth Brunswick balls. It all depends on your preference.
Also, DV8 balls are pretty affordable. While Brunswick is more on the high-end side, you can expect most DV8 balls to be a little more affordable. However, they still carry the same quality that Brunswick balls do.
Some of the most popular DV8 ball models include the DV8 Alley Cat ball and the DV8 Notorious ball.
DV8 Most Popular Balls:
---
---
10. Track
Track brand has been around for quite a long time and made its mark in the bowling industry due to innovation. When Track was founded, the founders put heavy emphasis on cutting edge innovation, allowing them to provide customers with balls that they wouldn't be able to find anywhere else. Due to their hardcore change, they became a successful bowling ball brand known for creating many popular bowling balls. And a lot of their older balls became household names.
They eventually switched owners back in 2007, but their promise of quality didn't change. Track continued to strive for innovation and create only top grade bowling balls. Some of the specific products that they're pretty known for include the Track Triton and the Track Tactix Balls. These balls are known for their very solid and durable coverstock designs. Both are also pretty versatile with lane conditions, although they usually work best in medium lane conditions.
Track Most Popular Balls:
---
---
11. 900 Global
900 Global was a bowling ball manufacturer that was founded sometime in the year 2007. While their main line of products are bowling balls, they do sell other bowling equipment as well, such as bowling bags, bowling shoes for women and men, shammies, and other sports or bowling related accessories. However, their bread and butter are in their balls.
Ever since their founding, they focused more on performance enhancing balls that allow you to create great hook shots that are very smooth and fast down the lane. If you're looking for a high-end ball that will let you produce great curve shots, then 900 Global is your best bowling ball brand.
900 Global balls are pretty well-sought out by professionals and mid level bowlers. Some of the balls that they are primarily known for include the famous 900 Global Badger Infused and the 900 Global Flux. Other models are the 900 Global Volt and the 900 Global Boost product line.
900 Global Most Popular Balls:
---
---
12. Radical
Radical is another bowling ball brand under the helm of Brunswick. While it is a sister of Brunswick, the founder of the Radical balls are actually two people who had expertise in bowling technology. These two geniuses are Phil Cardinale and Mo Pinel. They had a vision wherein professional bowlers had much better balls than the ones you can find today. Their approach to creating balls is a more scientific one where they take heavy physics calculations into consideration. With their approach, they introduced their first balls, the Radical Reax and Radical Yeti back in 2013.
Following their two successful projects, they created more balls after. Because of their knowledge and skills in creating balls, they created some of the best bowling balls that the market has seen. The brand is known for its innovative balls that have the same quality as Brunswick.
Aside from DV8, Radical also offers alternatives to the traditional Brunswick balls. Their approach to creating balls includes creating a scientifically enhanced coverstock, core, and design. That way, bowlers can unleash their potential in the bowling lane.
Radical Most Popular Balls:
---
---
Of course, on the market today, there are many more bowling brands. But these are some "small companies" that usually don't have their own manufacturing facilities, and they have their bowling equipment produced by one of the major bowling brands, like Brunswick, Ebonite, Storm, Motiv or 900 Global. Here is the small list of these other brands:
Moxy Bowling Products
Blend10 Bowling
Lane #1
Lane Masters
Lord Field
Seismic Bowling
Much like the bigger brands, each of these smaller sellers has its specific twist on how they layout and marketplace their bowling gear.
Verdict: The Best Bowling Ball Brand
These are some of the best bowling ball brands that you can find in the market. When you choose balls for your games, we always emphasize that you need to consider the brand when making your purchase. That's because each bowling brand has its own specific style of creating balls. With that, the brand that you will stick with will be the brand that has features compatible with your particular bowling style.
In any case, buying balls from well-known bowling companies ensures you of overall quality and enhanced performance. Many of the balls that come from high-end bowling brands have features that can enhance your game. And if you want to play at your best potential, then obviously you have to buy the best ball for your game.
All of the brands that we've mentioned above produce balls that can surely improve your game. Whether you're a beginner bowler, mid-level bowler, or an advanced player, you need to familiarize yourself with all the balls made by the top rated bowling ball brands in the market. It always pays to buy and own your ball. Having a good ball in your arsenal gives you comfort when you're trying to make a strike.
So if you're planning to buy a new released bowling ball anytime soon, you need to know the brands that we've mentioned above. They're some of the best bowling ball brands in the market that produce some of the top rated balls.
---
Last update on 2023-06-05 / Product Images