Looking for news about the new bowling ball release that's worth analyzing?
Confused about which bowling ball to choose from the old performers or from the latest bowling ball releases?
No need to worry as you've reached the right place. New bowling balls are released every now and then, it is tough to choose the proper bowling ball.
We analyzed a lot of balls also consulted some experts and so we wrote these bowling ball reviews to help our readers to select the top bowling balls.
Top 5 New Bowling Ball Releases: Comparison Chart
Hammer Black Widow Bowling Ball
Brunswick Quantum Bias Bowling Ball
Pyramid Force Bowling Ball
900 Global White Hot Badger Bowling Ball
DV8 Turmoil Solid Bowling Ball
Radius of Gyration (RG) *
Factory Finish / Type
Polished / 500/1000 Abralon w/ Powerhouse Factory Finish
Polished / 500 / 1000 Siaair Micro Pad
Matte / 2000-Grit Abralon
Matte / 500 / 4000 Siaair Micro Pad
* Core Specifications are for a 15 lb bowling ball.
---
And that is the reason we've rounded up some of the best new bowling balls from the list of recent releases. We have a sophisticated rating system to give only the best from the best.
Our goal is to provide you a set of options from which you can come to an informed decision to buy the best bowling ball.
Top 5 New Bowling Ball Releases Reviews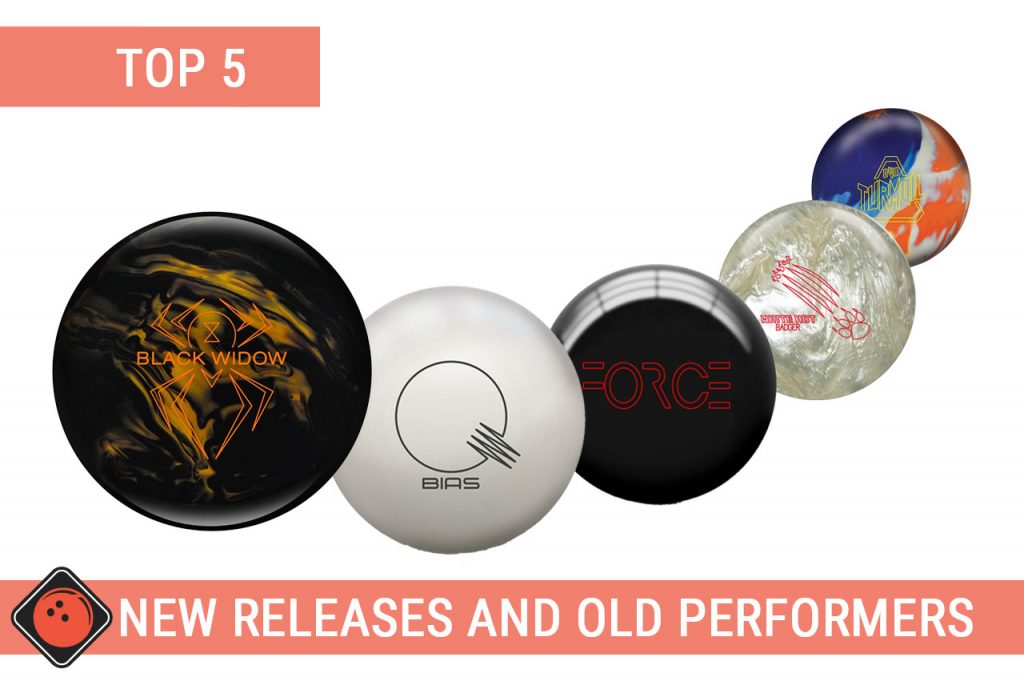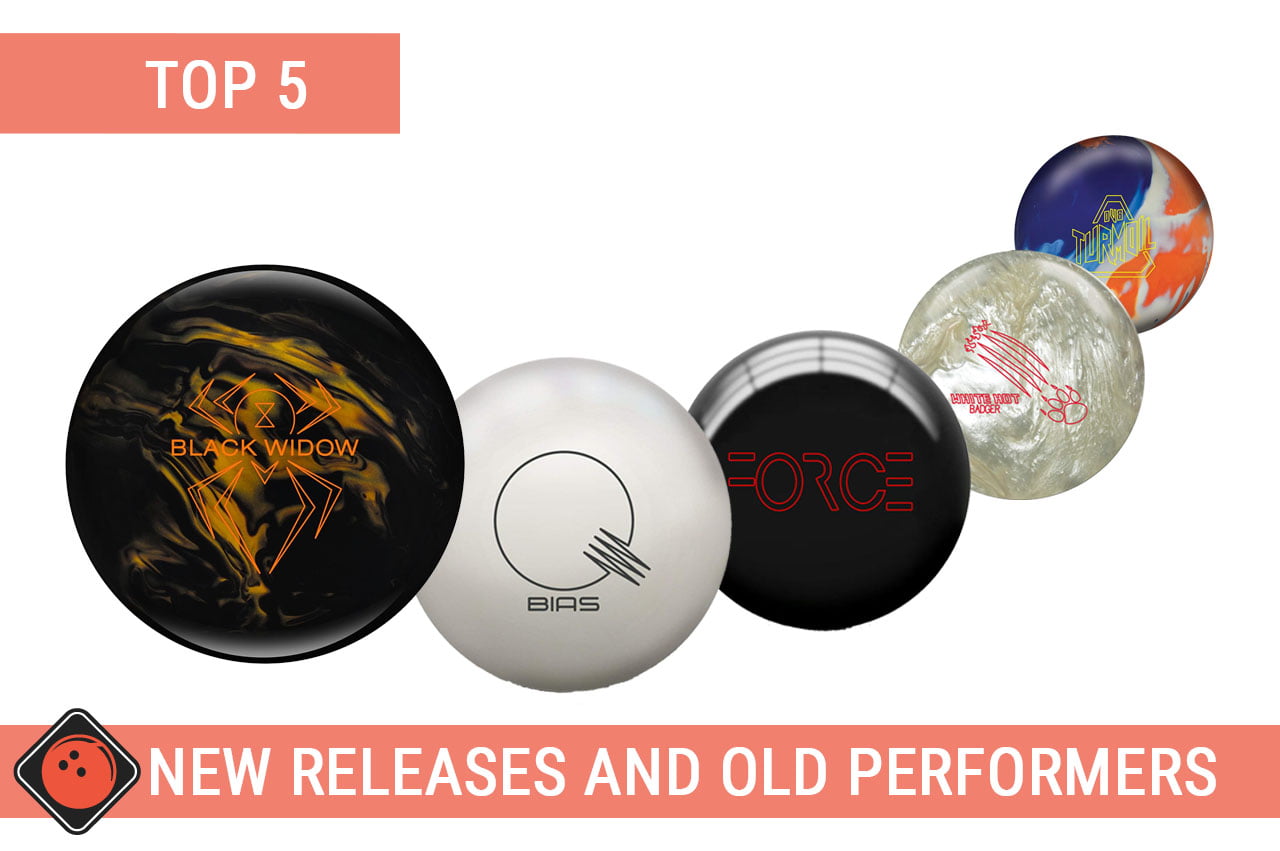 1. Hammer Black Widow Bowling Ball
The Hammer Black Widow Black/Gold bowling balls are made using high-quality hybrid coverstock materials and combined with an angular core in Gas mask provide long lasting life. The bowling balls gives you the much-needed powerful backend motion even in oily lanes.
Infused with carbon fiber, the balls offer you with added grip and support. The main reason Hammer bowling balls are alloyed with Carbon fiber is to give the balls the needed durability and strength.
Even though the Black Widow Black/Gold uses the same formula used in Rip'D, one thing missing with the Black Widow Gold is the CFI additive. These balls are not delivered with drilled holes to allow you to drill it to meet your own requirements.
Even though it is considered to be a great medium oil bowling ball, with a few adjustments in the surface you can certainly turn into one of the top bowling balls in heavily oiled lanes too.
The ball seems to read the mid-lanes pretty much well and easily tugs straight towards the pins.
2. Brunswick Quantum Bias Bowling Ball
This Brunswick bowling ball has ome up with another successful product in the Quantum Bias bowling ball. Made using high-density and top of the line Asymmetric cores featuring the Quantum Mushroom High RG. It is the thick and strong urethane coverstock materials that gives the ball the much-needed durability and longevity, and that is making it an excellent urethane bowling ball.
People looking for great hitting power can go for the Quantum Bias bowling balls as the ball comes with a unique design so that to ensure the gross weight of the ball and the hook potential is compensated accordingly.
The Quantum bias utilizes the trademark Brunswick ECA-XR coverstock method to give the ball the added durability. And the Quantum bias is one of the first asymmetric bowling ball core models from Brunswick.
Not only the all-white outlook gives the ball a great look but also gives you with added hooking potential, thanks to the white pigment present in the ball.
3. Pyramid Force Bowling Ball
Pyramid has launched yet another bowling ball in the name of Force that features medium RG and differential engine that could offer you consistent motion down the lane. It also brings with it a lot of energy that is entirely transferred down the lane and on to the pins.
Made using black GPS Navigational solid coverstock, the bowling ball provides you with exceptional power. Comes with a 2000 grit Abralon finishing, you can easily expect great reaction both in the front and mid lanes.
Overall, the Pyramid force has delivered a bowling ball that gives you everything you look for in a bowling ball including needed momentum, strength and durability.
4. 900 Global White Hot Badger Bowling Ball
The White Hot Badger bowling ball from 900 global is the next in our list of new releases. Basically, the ball is shipped undrilled and it is up to you have the drilling done.
Even though some might do it themselves, it is always better to have a professional complete the drilling work according to your requirements. Made using S71 Pearl coverstock materials, the bowling ball provides you good backend motion.
Comes equipped with a lacerate symmetric core that gives the ball a flare potential of up to 5 inches. When throwing a bowling ball in medium lane conditions, then you can get the desired instant change of direction. The White Hot Badger from 900 global is an advanced version of the ever popular Badger series of bowling balls.
When it comes to getting the best flip reaction, we can say with confidence that the white hot badger is the best of the lot amongst all the balls released from 900 global symmetric range.
The lacerate symmetric core gives the ball enough length through the heads along with maximum torque at the breakpoint. You can get the desired change of direction in medium lane conditions.
The symmetric core comes with a two-piece design and the coverstock used in the White Hot Badger is the pearl variety of the coverstock from 900 global.
This variety has been specially designed and developed to provide you with great length and responsiveness at the break point. The bowling ball weighs around 14-16 pounds and comes with a 1500 Grit Polished Color finish.
5. DV8 Turmoil Solid Bowling Ball
The all-new Turmoil Solid from DV8 is a clear winner as it provides great performance in every kind of lane and like the Turmoil Pearl, it comes with the same kind of symmetrical weight block. Made using composite-solid coverstock, the Turmoil Solid gathers speed much quicker than the Turmoil Pearl.
The motion is comparatively smooth and the 500/4000 box finish is certainly the best bowling ball that we tested in heavily oiled lanes. It also showed much better performance on medium lane conditions too.
If you are looking for a continuous and strong roll down the lane, then you can go for this Turmoil solid bowling ball from DV8. The reason many prefer to get this ball is because of its high percentage of predictability.
Much like the Turmoil Pearl, the solid version also gives you good mid-lane roll along with good movement off the spot. You can expect stronger reaction from the ball when you have the drills just a pin up over the ring-finger layout.
And another interesting aspect about the Turmoil Solid comes with vibrant colors and it looks really cool when the ball rolls down the lane. The ball also provides great performance even on oily lanes too.
How to Choose Best Bowling Ball: Buying Guide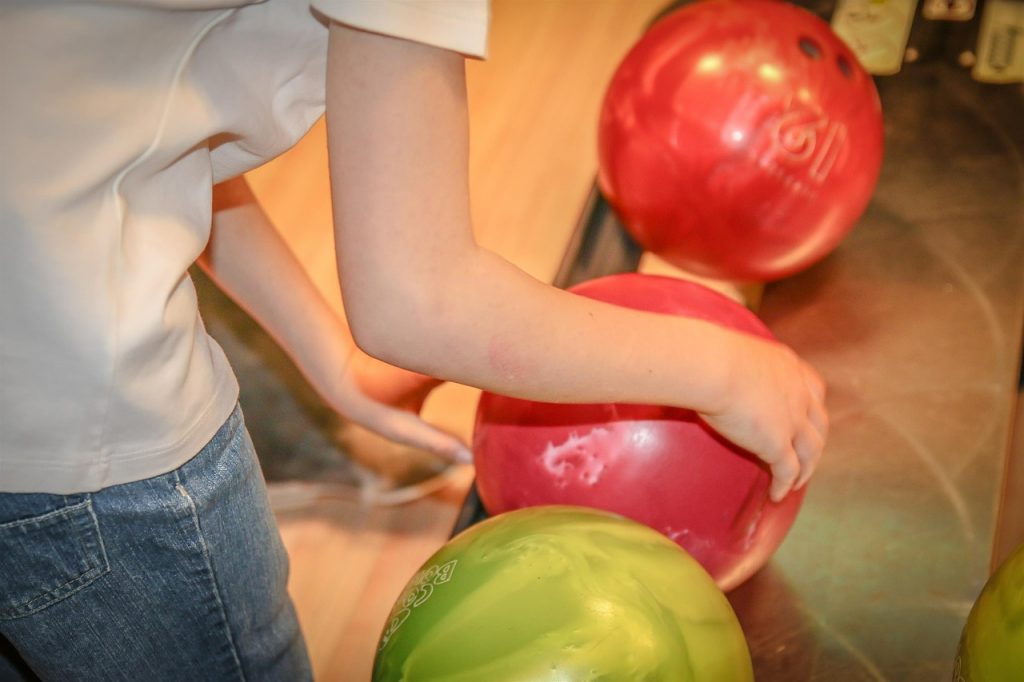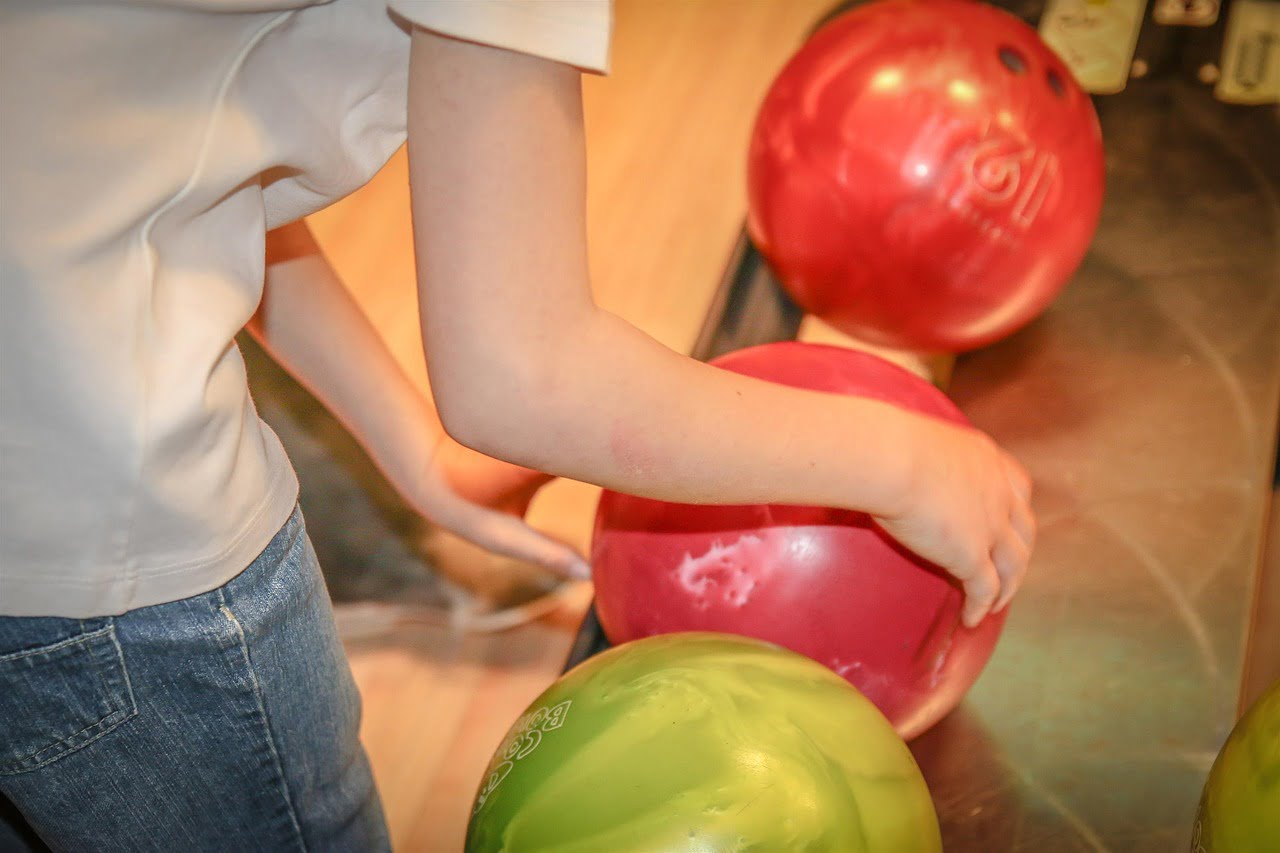 Knowing how to choose the proper bowling ball will dramatically boost your performance and consistency. With so many sizes and configurations, shopping can rack your brains if you're a beginner. Wise buyers kill two birds with one stone by gleaning the facts from a rich vein of information online.
This guide gets down to the nuts and bolts on narrowing down an ideal product for personal use. The cross-cutting factors that determine the right product include weight, coverstock, and hook potential. In the awake of revolutionary polymer science, leaders in the industry have attained versatility and dynamic properties.
Important Moments when selecting your ball:
1. Ball Weight
An overly heavy or light ball casts a pall over your performance with severe strain on your arm swing. A perfect fit allows you to take on an extra pound or two in weight.
The most popular formula recommends 15 lbs for adults, 14 lbs for women, and 12 lbs if these are to heavy for You;
The other school of thought recommends bowling balls equivalent to 10 percent of your body weight;
When selecting add one to two pounds to your ball, because, after drilling holes the ball will lose up to 2 lbs.
2. Ball Coverstocks
The coverstock also dictates suitable lane conditions including dry, medium-heavy, or light oil. A stiff or pearl outer shell will slide smoothly in the front end of the alley. A solid traction-generating surface increases the gripping action.
Plastic cover stocks answer your description if you toss it straight. All house balls come with a plastic cover stock at the entry-level price point but lack versatility;
Urethane and reactive-resin grip the lane more aggressively if you throw a hook taking a gradual arc throughout the sweet spot;
Reactive resin plows through the oil without hooking excessively. It will generate traction at the backend with greater hitting power.
3. Ball Core or Weight Block
Cores or weight blocks come in different shapes and configurations for varying hook potential. Highly sophisticated cores call for an advanced level of expertise to counter and control the unique weight block.
Best bowling ball for a beginner who is seeking to test the waters, the pancake-shaped weight blocks will help to sharpen the control before transiting to hooks and other approaches.
Symmetrical cores offer a higher or medium hook potential
Asymmetrical cores generate different effects on motion
4. Ball Drilling: Custom or Pre-Drilled
You can go for a pre-drilled product or draw your horns in by buying a house ball. They come in multiple sizes based on the weight of the equipment.
Products fine-tuned for your hand render more control and diminish fatigue or injury. Brand new and un-drilled products mean you can have your hand measured and corresponding pitches engraved in a pro shop. This becomes more important if you're looking for the best bowling ball for left handers.
Some stores offer custom drilling free if you add an item to your cart. And a custom drilling fee will not empty your wallet making it worthwhile.
5. Radius of Gyration & Flare Potential
Radius of gyration (RG) refers to a factor engineered in the core production phase and influences how rapidly a ball acquires its strongest rolling pattern. Manufacturers include the RG rating for their high-end lineup.
If you thirst for the most aggressive backend reaction, look for 6" flare potential rating and higher. High RG rolls perfectly on the backend of dry lanes;
Moderate backend reaction clocks in at 4" to 5" flare potential rating. Modest backend reaction requires a low flare potential. Mid-range RG corresponds with medium oil;
Low RG ratings tend to roll sooner and strongest on the front end of the alley matching up heavy oil conditions.
6. Ball Surface Finish
There are a broad array of surface finishes. Broadly speaking, the surfaces branch off as either sanded or polished. This broad umbrella of classification has a plethora of finishing procedures like polish or compound types, and grit steps.
Factory finish appeals to a broad audience in the bowler's world. Manufacturers employ proprietary decorative technologies like sublimation which remain trade secrets;
Go with rougher cover stock finishes that create more traction and tend to make the ball hook much earlier than smoother surfaces;
Go for a sanded surface if you want to start hooking near the end of the oil pattern.
Some balls allow you to modify the surface to correspond to the tournaments and lane conditions.
7. Oil Absorption Rate
Modern bowling balls sop up oil into the outer shell surface slowly. Reactive resin outer shells have a higher porosity which sucks up liquids than their plastic counterparts. Cover stocks with a high oil absorption rate render more aggression on-lane.
Experts suggest oil absorption rate is inextricably linked to friction. Thus, higher ratings come from products that generate a lot of traction on-lane. However, the friction generated also depends on surface hardness.
Ask the pro shop operator to undertake the tests as it throws light on how it will perform on the alley.
Experimenting gives you a fresh pair of eyes as hook reactivity depends on latent properties. Look at the next video, to get a clear understanding of a few things that we mentioned here.
8. Other characteristics that should be considered
Cover stocks should have an Average Peak-to-Valley surface roughness of less than 50 micro-inches under a surface finish of 500 Abralon;
On a dry lane, covers should exhibit a coefficient of friction below 0.32;
Custom-fit gripping holes give a comfortable grip throughout the approach;
Finger inserts and gripping accessories help you maintain a consistent feel with different balls;
Pro shops can impart specific motion like arc-shaped or angular by adjusting surface finish;
The core represents the hidden engine of the balls;
Reactive resin covers produce significantly more friction with the alley for big backend movements, increased entry angle, and better pin carry;
Plastic or polyester provide ease of control for beginners and spare balls for competitive players.
Final Verdict
If you are looking to purchase the best bowling ball recently released, then we hope our selection of the best new releases would have provided you with ample information about some of the best bowling balls in the market.
Before choosing your bowling ball, better make sure you check that the ball sits comfortably in your hand and gives you the needed balance and support. Choosing a bowling ball that suit all your requirement may take a lot of time to search among hundreds of bowling balls recently released in the market.
And this is where we hope that our selection of the best new bowling balls and old performers would help you in choosing a bowling ball helps you score more freely and comfortably in the lane.
Please provide your valuable comments and suggestions in the feedback section below and we will happy to respond back at the earliest.
---
Read more:
Check the Brunswick rhino bowling ball review
See our analysis on Top bowling shoes
Read Best double bowling ball bag
Interested to see Which is the most expensive bowling ball
Read our Bowling ball cleaner review
Need protection gear? check the our Bowling wrist guard review
Hammer Gauntlet Fury bowling ball review
Brunswick Tzone bowling ball review
DV8 Poly bowling ball review
---
Last update on 2023-06-05 / Product Images