DV8 Poly Bowling Ball Review gets to the bottom of the most vital piece of gear in the sport. The DV8 POLYESTER transforms bowlers into a ball of fire right off the bat regardless of lane conditions, oil pattern, or pin set-up.
| | |
| --- | --- |
| Brand | DV8 |
| Level / Performance | Plastic / Spare |
| Color | Just Black |
| Core Type | Symmetric |
| Coverstock Type | Plastic |
| Radius of Gyration (RG) | 2.70 * |
| Flare Potential | Low * |
| Factory Finish | High Polish |
| Warranty | 1 Year |
| | |
| --- | --- |
| Product Line | Poly |
| Lane Condition | Dry |
| Weights Available | 6, 8 – 16 lb |
| Core Name | Pancake style core |
| Coverstock Name | Polyester |
| Differential | 0.019 * |
| Hook Potential | Low |
| Finish Type | Polished |
| Release Date | 08.01.2014 |
Note: Core Specifications are for a 15 lb bowling ball
Available in other colors (Click to see)
Start the ball rolling to hit the mark for every shot you take with your best bowling shoes, effective protective gear and other modern bowling equipment. Cutting edge technology makes it a notch above the rest with a high-quality polyester coverstock and pancake core.
Set the ball rolling assured of a strike making inroads into the pocket for higher scores. Structural stability improves the ball's rotation and direction when it strikes the pins.
DV8 Poly Bowling Ball Review – 5 Main Features
1. Polyester Coverstock
The manufacturer incorporates a rigid coverstock enclosing a larger, denser, and more dynamic core. By introducing this outer shell layer, the manufacturer has drastically reduced the amount of costly coverstock material required to craft a ball. In a similar vein, the extra outer core region gives the manufacturer latitude to tweak the ball's dynamic characteristics.
They can exquisitely readjust the densities of the coverstock and inner core to attain varying RGs or differentials with the precise component geometries.
Coverstocks account for up to 80% of on-lane performance. Given that they have extremely low friction with the surface, polyester coverstocks have low hook potential. They also pack quite a punch as spare balls for competitive bowlers.
2. First-Time Bowlers & Spare Balls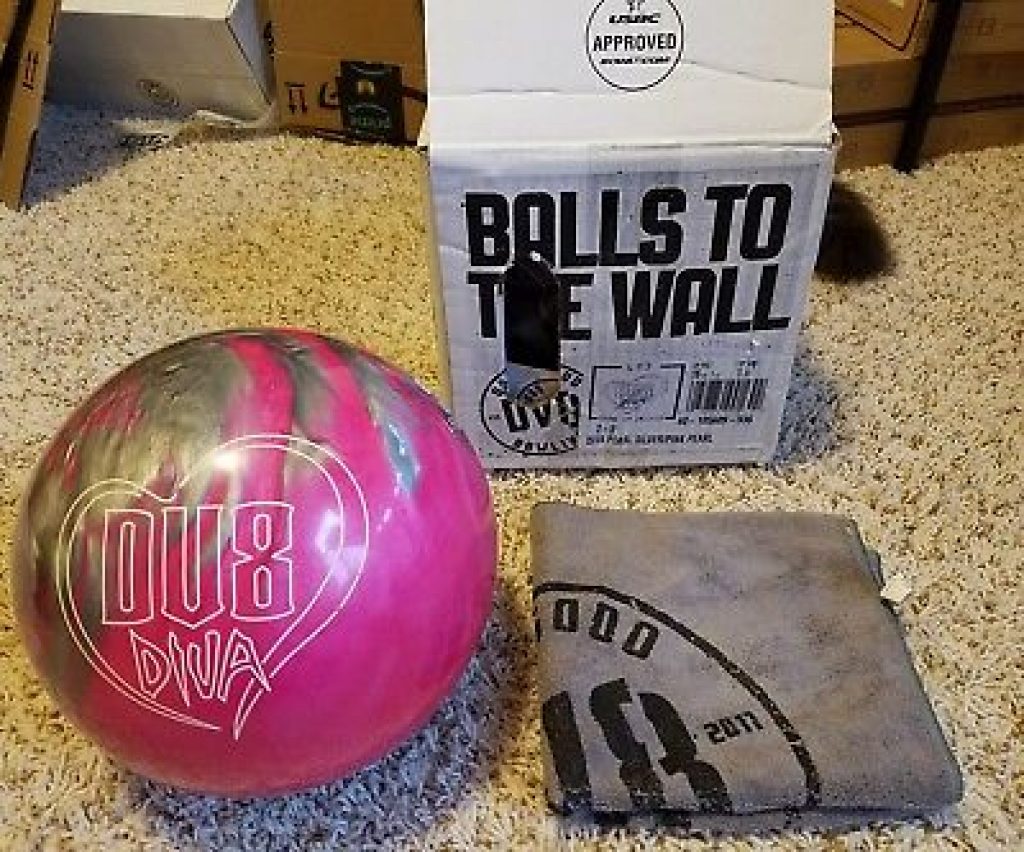 Polyester bowling balls dominate the market as the entry-level top-of-the-range versions. They've cornered the market due to their bowling balls cost, superior durability and longevity. Stable rotations without wobbling means they don't rage out of control for the highest scores and optimal pin action.
Generally, polyester items have less aggressive hook action than what you use as strike balls. For extremely dry alley conditions, you'll find that minimal friction from plastic balls give you a competitive edge in striking.
3. Pancake Core
The DV8 POLY comes with a pancake weight block mostly integrated in polyester balls. They have a pancake or puddle-like shape and shaped like small pucks. The pancake-shaped core has a slim and more puck-like form. It generates minimal RG differentials which causes the ball to produce slight track flare.
This DV8 bowling ball has a symmetric core (see our analysis symmetric vs asymmetric bowling balls). A small disc sits on one part of the ball to offset the dissipation in total mass that results from piercing finger holes into the ball.
Pancakes have survived advancements in core technology as they offer a highly predictable and stable momentum under typical lane conditions. If you seek a standard, top rated bowling ball without much fuss, this item will bring out the beast in you.
4. High-Gloss Surface Finish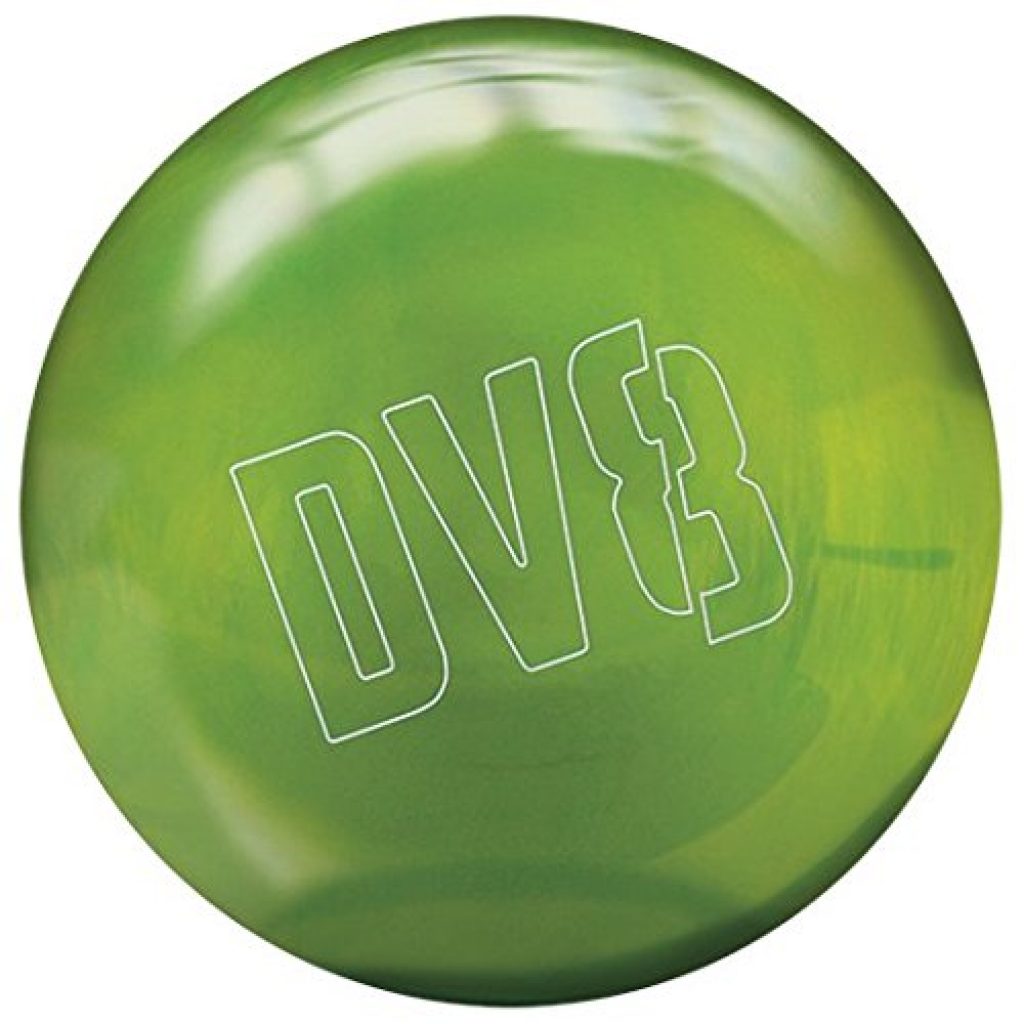 The DV8 POLY has a uniformly polished outer surface that will endure wear and abrasion as it strikes, initially skids, and then rotates downhill all the way. Substandard balls wear unevenly causing random and irregular spins. These products produce inconsistent results and poor scores.
Conversely, the DV8 POLY generates consistent, predictable and excellent results due to factory finish. Its topcoat can withstand severe surface impacts inevitable during play without fracturing or splintering.
Premium and durable gloss has dirt-repellent properties while it does not mark the bowling alley. Similarly, it's anti-brittle to endure extremely severe impacts keeping the attractive sleekness in mint condition.
5. Recreational Home Ball
At first blush, you'll start to discharge the bowling ball with your fingers around 4 o'clock or 8 o'clock position. It has beneficial knock-on effects giving the ball additional revolutions and hook. This allows the DV8 PLOY to breeze through the pins without extreme deflection like a straighter ball.
Maintaining the fingers in the region of the 4 o'clock causes the line of wear to rock a bit further from your finger and thumb holes for a three-quarter roller.
Rotate your fingers on delivery to generate uniform revolutions, improved drive, and a semi-roller track. Once you get this down to a fine art, it's all beer and skittles during your recreational or competitive bowling sessions
Why should you use DV8 Poly Bowling Ball?

Polyester Coverstock
Plastic coverstocks dominate the entry-level niche thanks to their superior durability and easy to control qualities. They make an ideal choice as spare bowling ball for competitive bowlers. Given that they hook less powerfully, you can use it to convert spares and forget the oil pattern. A low friction polyester ball can give you the trump card in striking.
Pancake Core
Pancake weights have continued to hang around for decades as they have a highly reliable and stable pattern on typical lane conditions. If you angle for an entry-level product without any unique considerations, a pancake weight core answers your description.
High-Gloss Polish Finish
The manufacturer employs highly developed factory finish for a coating that withstands wear and scratching from high impacts. The ball will retain its shine in the long haul for regular and predictable revolutions. It will not pick up dirt or distort its color vibrancy. Moreover, it does not leave severe marks along the bowling alley.
First-Time Bowlers
The DV8 polyester bowling balls unveil the whole shooting match for first-time freaks to learn how to throw your bowling ball. They provide ideal spares as they lack high hook potential. On severely dry lane conditions, you'll find its low friction beneficial as you strike.
Storage & Transport Sack
The product includes a shoulder sack for easy transport or storage. It has generous room to accommodate a whole raft of bowling equipment to and from the alleys. Low price range gives the best bang for your buck with an extra and useful accessory. That included bag will definitely help you to keep your ball in good shape, but you still need to use the best cleaners for your bowling ball.
FAQ – Frequently Asked Questions
Does it come with a rugged outer shell with brittleness?
Resilient layer does withstand stress of impact.
What type of weight block does it use?
It comes with a pancake-shaped flat core.
What's the hook performance level for this ball?
Hooks slightly but rolls straight, use it for spares.
How would the pro shop professional know where to pierce holes for perfect balance?
They use a right-angled pitch when drilling to prevent aggressive hooking.
When DV8 Poly bowling ball was released?
Final Verdict
DV8 Poly Bowling Ball Review helps you get rolling under your own steam in high spirits. The pancake-shaped core builds momentum as the ball leaves your hands and travels down the alley towards the targets. It renders a highly reliable and stable momentum without wobbling for more straightforward control.
Polyester products unpack a whole new ball game for first-time bowlers to hit the ground running. The DV8 POLY integrates a high-gloss polish coating that will withstand high impacts, scratching, and surface distortion.
If you don't know beans about bowling, this entry-level product will get the bit between your teeth. The package puts in a convenient shoulder bag to store or carry everything from soups to nuts.
---
Read more:
Brunswick TZone Bowling Ball Review
Tropical Storm Bowling Ball Review
Brunswick Rhino Bowling Ball Review
Pyramid Path Rising Bowling Ball Review
Columbia 300 Nitrous Bowling Ball Review
Hammer Gauntlet Fury Bowling Ball Review
Pyramid Antidote Bowling Ball Review
Storm Timeless Bowling Ball Review
Pyramid Curse Bowling Ball Review
Brunswick Viz a Ball Review
---
Last update on 2023-06-05 / Product Images