Brunswick Snake Glow Viz-a-Ball Review gets down to the nuts and bolts of a renowned brand in the industry. Best rated bowling balls have undergone radical technological advancements from the 1980's to date, especially coverstocks and inner cores.
| | |
| --- | --- |
| Brand | Brunswick |
| Level / Performance | Polyester |
| Color | Custom / Snake |
| Core Type | Symmetric |
| Coverstock Type | Polyester |
| Radius of Gyration (RG) | – |
| Flare Potential | Low * |
| Factory Finish | Crown Factory Polish |
| Warranty | 1 Year |
| | |
| --- | --- |
| Product Line | Viz-a-Ball |
| Lane Condition | Dry |
| Weights Available | 6,8,10,12,14 – 16 lb |
| Core Name | Bullet |
| Coverstock Name | Polyester |
| Differential | – |
| Hook Potential | Low |
| Finish Type | Polished |
| Release Date | 07.01.2009 |
Note: Core Specifications are for a 15 lb bowling ball
Available in other colors (Click to see)
This polyester product contains materials that increase its porosity and help create better friction with the alley's surface. A flickering snake emblazoned in front and eye-catching visual artworks embroider the outer surface. The durable decorations and polish offer superior durability and wear-resistance against abrasion.
Unique structural properties improve the ball's rolling pattern and thrust with which it strikes the pins. Snake Glow rolls faster on the lane for a smooth, curving ball path and minimal angle change in the back end.
Brunswick Snake Glow Viz-a-Ball Review – 5 Main Features
1. Polyester Coverstock
A vast majority of entry level bowling balls come with a polyester or plastic coverstock. Plastic coverstocks have gained the toehold due to their hardiness which prevents energy loss from frictional resistance. However, plastic compositions have a low hook potential making them ideal for entry-level versions needed by casual recreational bowlers.
They boast superior durability, versatility and more straightforward control. Snake Glow Viz-a-Ball makes a winning combination as a spare bowling ball. It doesn't require aggressive hooks if you like throwing straight balls to transit spares as a means of getting rid of the oil pattern.
It's perfect for this function as it hooks much less than the types used for strikes. On highly dry lane conditions, you can capitalize on low friction for high precision strikes.
2. Straight-Trajectory Stability
The shape and density of the core greatly affects the path taken by the ball downhill all the way. Brunswick offers the most excellent straight-line stability and clockwork accuracy on the lane for optimum scoring. It improves your control over the ball and striking force due to its reduced angle of entry.
It offers better breakpoint, kinetic energy, and a consistent rolling point. You'll get more revolutions while you impart minimal energy than other entry-level balls.
The balls have a seam where both semi-spheres intersect. Steady rolls without wobbling allow better control and winning scores. It creates a predictable path from the foul line to the pins.
3. Topcoat Finish & Decorations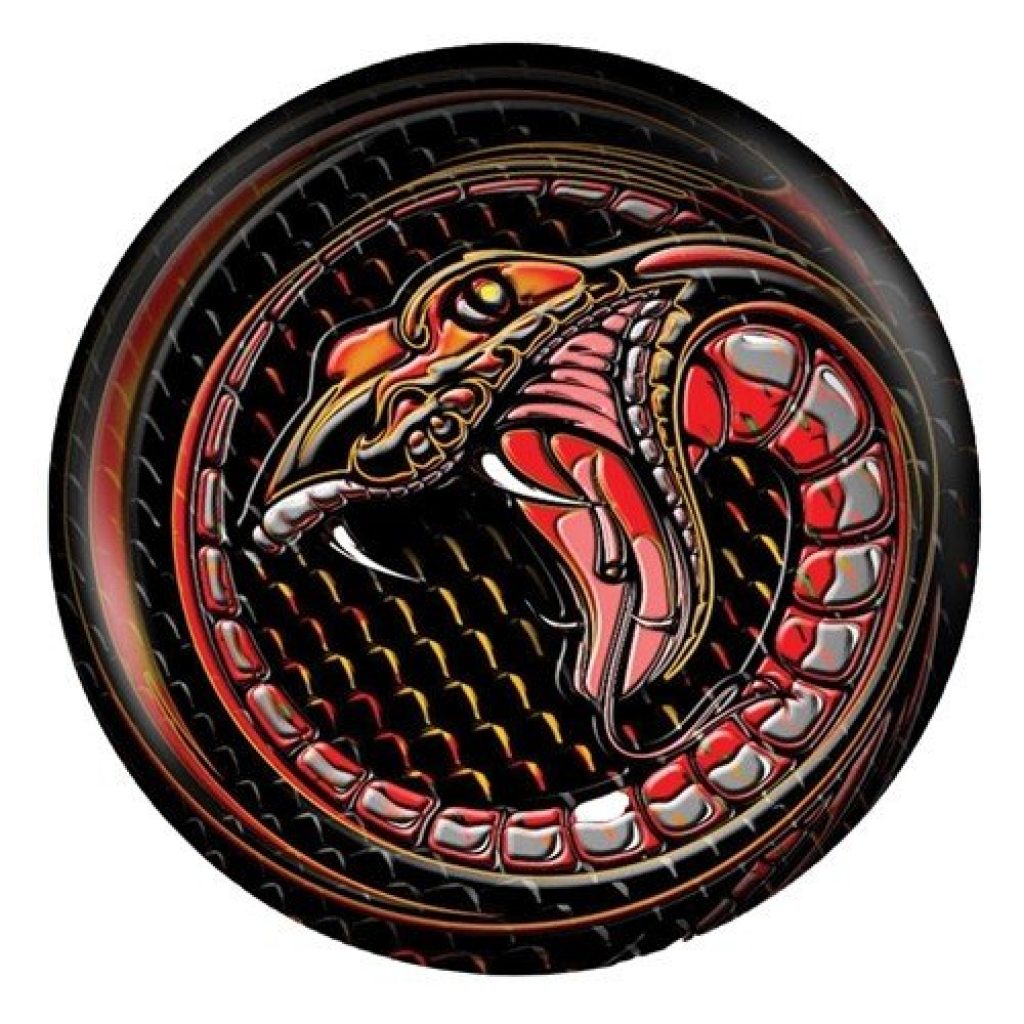 The Rubbing and Finishing Compound Single Buff of the Brunswick bowling ball adds piquancy to the highlights, appealing snake graphics and vibrant decorations. Premium polish or decorations remain vibrant due to a greater penetration depth while they last longer as they endure abrasion.
The flexibility and elasticity of the materials used diminish folds or wrinkles which may create imperfections on the decorations.
Brunswick Bowling has seen a sensational climb up the charts due to their super-quality durable decorative images imprinted through a proprietary technique. The Viz-a-Ball brand bowling balls still create more friction and tend to hook earlier with a better grip on the lane.
4. Ball Core – The Hidden Engine
The dynamic structure of the core has a margin of error so that you strike the pins if you miss the prime target. The VIZ-A-BALL SNAKE high differential helps transit to your desired spin axis of the core at a rate of knots down the lane.
The seam dividing the core allows the ball to alter the trajectory to the pins with an earlier curving pattern on the lane. The core has a low intermediate differential with a smoother and more consistent rolling.
A symmetric core bowling ball has static balance and structural stability to prevent wobbling down the lane. Core shape affects the ball's performance to the extent of its as-drilled mass properties.
5. Customized Fit Finger Holes
You can have the VIZ-A-BALL SNAKE's gripping holes custom-fit to your hand by a pro shop expert. Slight discrepancies in the hole's dimensions, pitches, and spans will affect your ability to evenly deliver the ball at a release point. You will need a drilling expert even more, if you are looking for the best left handed bowling ball.
Most top coaches share the premise that a ball's fit significantly affects your potential as a bowler. A comfortable grip allows you to steer accurately from the foul line and propel the bowling ball consistently as you release.
An undrilled product accommodates bowlers with long spans, small hands or pitch sizes. Finger-hole sizes refer to a diameter and depth, a custom-fit cavity gives you a consistent feel.
Why should you use Brunswick Snake Glow Viz-a-Ball?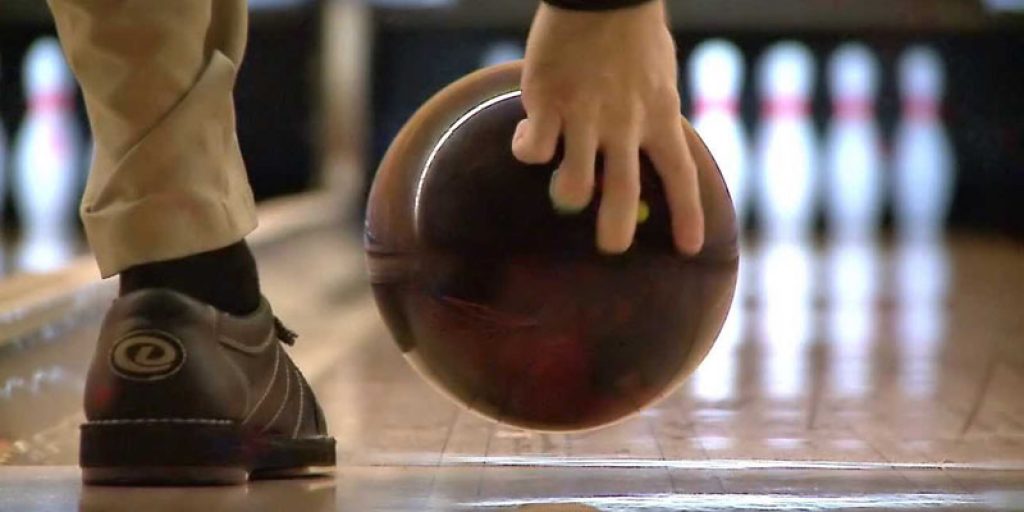 Ball Snake Graphics
Brunswick has decorated the bowling ball with an indelible image of a glittering snake for an outstanding visual appearance. The company uses a proprietary technique to stamp decorations for durability and wear-resistance due to abrasion. It uses Rubbing and Finishing Compound Single Buff high gloss polish for long-lasting surface smoothness.
Ball Rolling Stability
The polyester ball possesses an incredible straight-line stability and scalpel-like precision ideal for both professionals and beginners. It rolls faster on the alley for a smooth, curving path and minimal angle change in the backend. A straight-line trajectory ripples through the pattern to knock down as many pins as possible.
All Types of Surfaces
VIZ-A-BALL SNAKE offers the most excellent performance on all lane condition. Unique structural composition allows you to hook on time with less angle deviation on the backend of the lane. It generates more of rolling or arcing on surfaces with medium-heavy oil.
Undrilled & Brand New Ball
VIZ-A-BALL SNAKE lets you customize the gripping holes. Take it to a qualified pro-shop technician for custom-fit finger-holes, pitches, and spans for consistent delivery at the release point. A comfortable grip provides consistency and better control for higher scores.
Polyester Coverstock
The VIZ-A-BALL includes a durable plastic coverstock encapsulating the core as a protective layer. The coverstock boasts superior roughness while it's considerably less porous than the competition for less friction with the surface. Plastic coverstocks allow the stamping of different graphics and colors. For extremely dry lane surfaces, a low friction ball gives them a striking vantage.
FAQ – Frequently Asked Questions
What's the difference with high-end reactive resin for PBA?
Reactive resin coatings have more friction for better backend motion, augmented entry angle and pin carry.
Does the coverstock improve on-lane performance?
Success depends on the sliding friction forces down the alley.
It tips the scales from 6 lbs to 15 lbs.
How accurate is the VIZ-A-BALL SNAKE?
Can you opt for other graphics or motifs apart from this?
Yes, go for spider, skull, spider, whale and more.
Final Verdict
Brunswick Snake Glow Viz-a-Ball Review gets you into your stride with a core suited for all lane conditions. The solid coverstock can withstand internal shocks to prevent cracking, denting, and chipping. It rolls in an extremely straight-line stability without wobbling for absolute accuracy for beginners or a must-have spare ball for professionals.
This new bowling ball has a richly-embroidered surface polished off with proprietary technology. The VIZ-A-BALL comes with 360° graphics, sleek and durable finish for a long-lasting and eye-catching visual appearance.
It comes undrilled for custom-fit finger holes providing the most comfortable grip and higher scores. It has an image of a thrilling snake to intimidate down the lane and range over all pins.
---
Read more:
Brunswick TZone Bowling Ball Review
Tropical Storm Bowling Ball Review
Brunswick Rhino Bowling Ball Review
Pyramid Path Rising Bowling Ball Review
Columbia 300 Nitrous Bowling Ball Review
Hammer Gauntlet Fury Bowling Ball Review
Pyramid Antidote Bowling Ball Review
Storm Timeless Bowling Ball Review
Pyramid Curse Bowling Ball Review
DV8 Bowling Ball Review
---
Last update on 2023-06-05 / Product Images